This Is How It Ends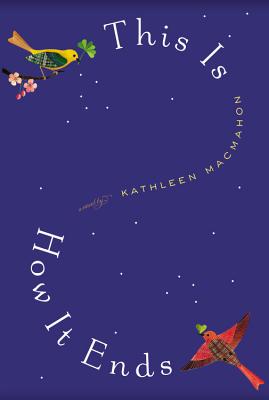 This Is How It Ends
Grand Central Publishing, Hardcover, 9781455511310, 352pp.
Publication Date: August 2012
* Individual store prices may vary.
Buy Now
or
Shop Local
Enter your zip code below to purchase from an indie close to you.
Description
This is when it begins

Fall, 2008.

This is where it begins

The coast of Dublin, Ireland.

This is why it begins

Bruno, an American, has come to Ireland to search for his roots. Addie, an out-of-work architect, is recovering from heartbreak while taking care of her infirm father. When their worlds collide, they experience a connection unlike any they've previously felt, but soon a tragedy will test them-and their newfound love-in ways they never imagined possible.

This is how it ends . . .

A story you will never forget.
About the Author
Kathleen MacMahon est une ancienne journaliste de la radiotelevision irlandaise nationale RTE. Petite-fille de Mary Lavin, auteure de nouvelles renommees, Kathleen vit a Dublin avec son mari et ses jumelles.
Praise For This Is How It Ends…
Praise for THIS IS HOW IT ENDS:

"Readers mourning the loss of Irish author Maeve Binchy may find a new friend in MacMahon, who delivers a similar sort of family drama well suited to drowsy afternoons and a cup of tea with a packet of tissues nearby."
-Carol Memmott, USA Today (Three Stars)

"[A] very satisfying story of people who are easy to believe in and hard to forget. Kathleen MacMahon writes with a confidence and ease and with an unerring sense of timing.... When you have long forgotten many other fictional lovers, there is something about Addie and Bruno, their past and their world, that will not go away."
-Maeve Binchy, The Irish Times

"This Is How It Ends is an unforgettable story of love and hope."
-Cecelia Ahern, author of P.S. I Love You

"MacMahon's enthralling debut novel features marvelous characters who will linger long in readers' hearts. This moving book will appeal to those who enjoy popular contemporary fiction, particularly the work of Maeve Binchy and Barbara Delinsky."
-Library Journal, Starred Review

"I was moved by This Is How It Ends, a tender-but never sentimental-story of unlikely love. With great wit and humor, Kathleen MacMahon skillfully captures the nuances and complexities of relationships old and new."
-Catherine O'Flynn, author of What Was Lost and The News Where You Are

"An autumnal novel that combines the poignancy of Persuasion with the sentimentality of Love Story."
-Kirkus

"Unexpectedly quirky, grown-up but pleasingly whimsical. Watching Addie cross over from her dark lonely place, accepting her single status, to girlish glowing happiness is enough to have you cheering out loud.... I hope it goes on to sell enough copies to kickstart the Irish economy."
-Nicola Barr, The Guardian

"A transatlantic love story beginning at the start of the current recession, it is truly a story for our time.... MacMahon writes movingly about the balm of hope and the redemption of love, about the very real pain of loss and the restorative power of family... [This is How it Ends] signals the belated arrival of a new Irish commercial writer with an extraordinary gift and a voice that is entirely her own."
-Irish Independent

"[MacMahon's] prose couldn't be tighter; yet it could not appear more effortless or beautiful.... She reaches unashamedly for the heart.... [A] bittersweet, engaging novel that will no doubt become a book-club darling."
-Lorraine Courtney, The Sunday Independent

"[This Is How It Ends] has 'future classic' written all over it."
-Glamour UK

"A tender love story.... A book about love, family, children and that glorious sense of being alive."
-Irish Examiner

"MacMahon quickly reaches the unadorned essence or soul of all her characters.... MacMahon lends her subjects grace and dignity as they deal with problems that are not sorted by money. Her fluid, no-frills narrative is reminiscent of Brian Moore."
-RTÉ