The Dash Diet Action Plan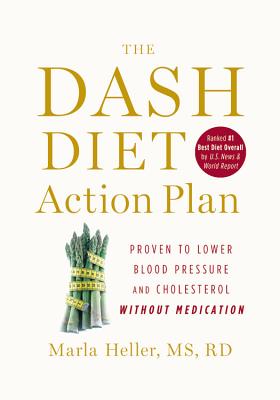 The Dash Diet Action Plan
Proven to Lower Blood Pressure and Cholesterol Without Medication
Grand Central Publishing, Hardcover, 9781455512805, 220pp.
Publication Date: September 12, 2011
* Individual store prices may vary.
Buy at Local Store
Enter your zip code below to purchase from an indie close to you.
or
Buy Here
Description
The "New York Times" Bestseller--Based on the Diet Ranked "#1Best Diet Overall" by US NEWS & WORLD REPORT--for 4 Years in a Row
Finally, the #1 ranked DASH diet is popularized and user-friendly. Unlike any diet before it, DASH, which stands for Dietary Approaches to Stop Hypertension, came out of groundbreaking NIH-funded research. Now, Marla Heller, MS, RD, who was trained by one of the primary architects of the DASH diet and is herself the leading dietician putting DASH into action for over ten years, shares the secret to making the diet easy and accessible, in THE DASH DIET ACTION PLAN.
Rich in fruits, vegetables, whole grains, low-fat and nonfat dairy, lean meats, fish, beans, and nuts, DASH is grounded in healthy eating principles that lower blood pressure; reduce the risk of heart disease, stroke, and some types of cancer; and support reaching and maintaining a healthy weight.
No diet has a medical pedigree like DASH, and this book is a simple, actionable plan that can fit seamlessly into everyone's life and lifestyle. It includes:
28 days of meal plans at different calorie rangesSimple tools to help you personalize a DASH Diet Action Plan for guaranteed successDASH-friendly recipes and shopping listsTips for eating on-the-runAdvice on healthy weight loss and exercise for every lifestyle.Now, you can revolutionize your health and change your life-"without "medication.
About the Author
Marla Heller is a registered dietitian and holds an MS in human nutrition and dietetics from the University of Illinois at Chicago. She was trained in DASH by one of the original architects of the original NIH research and has been working for over fifteen years to help her patients put DASH into practice. Heller has been the featured nutrition expert for the "Chicago Tribune" and "Washington Post", and she is a spokesperson for the Greater Midwest Affiliate of the American Heart Association. She is the author of "New York Times" bestsellers "The DASH Diet Action Plan" and "The DASH Diet Weight Loss Solution", as well as "The Everyday DASH Diet Cookbook".