We Make the Road by Walking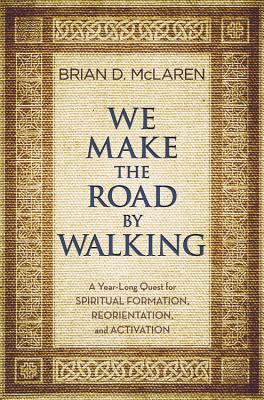 We Make the Road by Walking
A Year-Long Quest for Spiritual Formation, Reorientation, and Activation
Jericho Books, Hardcover, 9781455514007, 281pp.
Publication Date: June 10, 2014
* Individual store prices may vary.
Buy Now
or
Shop Local
Enter your zip code below to purchase from an indie close to you.
Description
From critically acclaimed author Brian McLaren comes a brilliant retelling of the biblical story and a thrilling reintroduction to Christian faith.
This book offers everything you need to explore what a difference an honest, living, growing faith can make in our world today. It also puts tools in your hands to create a life-changing learning community in any home, restaurant, or other welcoming space.
The fifty-two (plus a few) weekly readings can each be read aloud in 10 to 12 minutes and offer a simple curriculum of insightful reflections and transformative practices. Organized around the traditional church year, these readings give an overview of the whole Bible and guide an individual or a group of friends through a year of rich study, interactive learning, and personal growth.
Perfect for home churches, congregations, classes, or individual study, each reading invites you to
Cultivate an honest, intelligent understanding of the Bible and of Christian faith in 21st century Engage with discussion questions designed to challenge, stimulate, and encourageReimagine what it means to live joyfully and responsibly in today's world as agents of God's justice, creativity, and peace If you're seeking a fresh way to experience and practice your faith, if you're a long-term Christian seeking new vitality, or if you feel out of place in traditional church circles, this book will inspire and activate you in your spiritual journey.
About the Author
Brian D. McLaren, hailed as one of America's 25 most influential evangelicals by Time magazine, is a speaker, social justice activist, pastor, and the author of A New Kind of Christianity, A Generous Orthodoxy, A New Kind of Christian, and The Secret Message of Jesus. McLaren has appeared on Nightline and Larry King Live, and his work has been covered in The Washington Post, the New York Times, Christianity Today, and many other publications. McLaren and his wife, Grace, live in Florida and have four adult children.