The Kill Room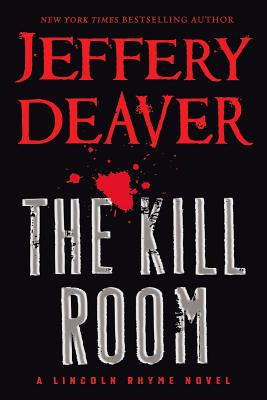 The Kill Room
Grand Central Publishing, Hardcover, 9781455517060, 496pp.
Publication Date: June 4, 2013
* Individual store prices may vary.
Buy at Local Store
Enter your zip code below to purchase from an indie close to you.
or
Not Currently Available for Direct Purchase
Description
It was a "million-dollar bullet," a sniper shot delivered from over a mile away. Its victim was no ordinary mark: he was a United States citizen, targeted by the United States government, and assassinated in the Bahamas.
The nation's most renowned investigator and forensics expert, Lincoln Rhyme, is drafted to investigate. While his partner, Amelia Sachs, traces the victim's steps in Manhattan, Rhyme leaves the city to pursue the sniper himself. As details of the case start to emerge, the pair discovers that not all is what it seems.
When a deadly, knife-wielding assassin begins systematically eliminating all evidence--including the witnesses--Lincoln's investigation turns into a chilling battle of wits against a cold-blooded killer.
About the Author
Jeffery Deaveris the international, #1 bestselling author of more than twenty-seven suspense novels, including"The Bone Collector", which was made into a film starring Denzel Washington. He lives in North Carolina.
Praise For The Kill Room…
"This is Deaver at his very best and not to be missed by any thriller fan."—Publisher's Weekly (starred review) - A "Best Summer Book of 2013"

"Deaver, who can't resist any opportunity for ingenuity... keeps mixing fastballs, curveballs and change-ups."—Kirkus Reviews

"Fans will appreciate Deaver's customary detailing of each plot sequence, thereby heightening their anticipation of the upcoming clincher. Thriller aficionados will be lining up for this one."—Library Journal

"Chillingly effective...Jeffery Deaver's quadriplegic detective has never been better...Equal parts Marathon Man and top-notch political thriller, this is Deaver at the top of his game. Rhyme remains the most original hero in thriller fiction today who may have met his match in Swann. Not to be missed."—Providence Sunday Journal

"Jeffery Deaver makes it all work, with style, in his latest thriller, The Kill Room...well-researched, expertly written and nicely paced."—The Columbus Dispatch

"Jeffery Deaver has written an ace thriller to keep readers guessing and gasping with his latest Lincoln Rhyme thriller, The Kill Room. A master magician with words, Deaver misdirects with one tale while what's really going on is just off the reader's radar...The numerous twists and turns in The Kill Room are so fast and furious that by the novel's end, the reader will be dizzy - and clamoring for more."—Associated Press

"If this contemporary story doesn't get your pulse racing, your head spinning and your adrenaline pumping then nothing will....If you are a person who enjoys a tight, twisted, terrific crime thriller which also has a personal story woven into it then you have to read Jeffery Deaver. He is one of the best writers on the scene today. His talent will knock your socks off."—The Huffington Post

"The Kill Room is very powerful in its exploration of current issues...This book is a page-turner with nothing as it seems to be, culminating in many surprise endings."—The Military Press

"Deaver delivers a dark tale of espionage, patriotism and egos as his clever detective puts the pieces of an intricately drawn jigsaw together while a killer targets his investigation."—RT Book Reviews

"Not even the brilliant Rhyme can foresee the shocking twists the case will take in this electrically charged thriller."—Publishers Weekly, (Starred Review) on The Burning Wire

"A taut psychological thriller from a masterful crime writer, proving Deaver just gets better with each new novel."—June 2010 Indie Next List Great Reads list on The Burning Wire

"This eighth novel featuring quadriplegic forensic expert Lincoln Rhyme is one of Deaver's best...Deaver has outdone himself."—The Globe and Mail on The Broken Window

"Deaver's scarily believable depiction of identity theft in a total-surveillance society stokes our paranoia. A -."—Entertainment Weekly on The Broken Window

"One of the most unnerving of Deaver's eight novels featuring his quadriplegic forensic detective, Lincoln Rhyme."—New York Times on The Broken Window

"Rhyme is one of the mystery genre's most interesting and out-of-the-ordinary series leads...As always, Deaver's dialogue is exceptionally realistic, and his plotting is devilishly intricate. Recommended for fans of the Rhyme novels (naturally) and readers who like their thrillers laced with wit and sharp characterizations."—Booklist on The Broken Window