Power Thoughts Devotional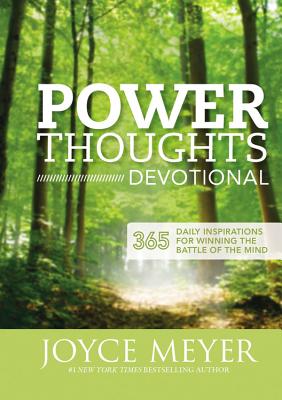 Power Thoughts Devotional
365 Daily Inspirations for Winning the Battle of the Mind
Faithwords, Hardcover, 9781455517442, 384pp.
Publication Date: October 22, 2013
* Individual store prices may vary.
Buy Now
or
Shop Local
Enter your zip code below to purchase from an indie close to you.
Description
Based on Joyce Meyer's "New York Times "bestseller "Power Thoughts," this devotional includes 365 opportunities to tap into God's power in your daily life by thinking and speaking His way. The POWER THOUGHTS DEVOTIONAL will provide you with life-changing declarations of truth, directly from God's Word, to think and speak over your life every day of the year.
Proverbs 18:21 says, "Death and life are in the power of the tongue." Simply put, words are containers for power--positive or negative, creative or destructive. Therefore, it is imperative that you learn to think and speak on purpose, using the life-giving wisdom in God's Word. When you do, your life will never be the same
If you struggle with being negative, critical, or judgmental of people and situations, don't be discouraged. God wants to help you renew your mind to think and speak as He would. It won't happen overnight--but each day you will make progress as you choose power thoughts to be more like Jesus.
It's time for you to experience and enjoy the life God created you to live, and Joyce wants to help you get there. You can do it with this devotional by learning how to think and speak power thoughts daily.

About the Author
Joyce Meyer ha estado ensenando la Palabra de Dios desde 1976 y en un ministerio de tiempo completo desde 1980. Los programas de radio "Vida en la Palablra," son escuchados por todo el pais y sus programas de television son vistos por todo el mundo. Es la escritora de mas exito en la actualidad, con millones de libros vendidos en muchos idiomas.