The Escape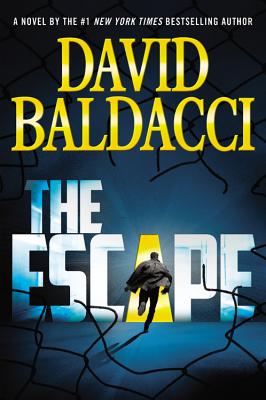 The Escape
Grand Central Publishing, Hardcover, 9781455521197, 480pp.
Publication Date: November 18, 2014
* Individual store prices may vary.
Buy Now
or
Shop Local
Enter your zip code below to purchase from an indie close to you.
Description
David Baldacci is one of the world's most popular, widely read storytellers. In his blockbuster thrillers "Zero Day" and "The Forgotten," he enthralled readers with John Puller. A combat veteran and special agent with the U.S. Army, Puller is the man they call to investigate the toughest crimes facing the nation. But all his training, all his experience, all his skills will not prepare him for his newest case, one that will force him to hunt down the most formidable and brilliant prey he has ever tracked: his own brother.
THE ESCAPE
It's a prison unlike any other. Military discipline rules. Its security systems are unmatched. None of its prisoners dream of escaping. They know it's impossible . . . until now.
John Puller's older brother, Robert, was convicted of treason and national security crimes. His inexplicable escape from prison makes him the most wanted criminal in the country. Some in the government believe that John Puller represents their best chance at capturing Robert alive, and so Puller must bring in his brother to face justice.
But Puller quickly discovers that his brother is pursued by others who don't want him to survive. Puller is in turn pushed into an uneasy, fraught partnership with another agent, who may have an agenda of her own.
They dig more deeply into the case together, and Puller finds that not only are her allegiances unclear, but there are troubling details about his brother's conviction . . . and someone out there doesn't want the truth to ever come to light. As the nationwide manhunt for Robert grows more urgent, Puller's masterful skills as an investigator and strengths as a fighter may not be enough to save his brother-or himself.
About the Author
David Baldacci is a #1 New York Times bestselling author of both adult and young adult novels. He published a novella for the Dutch entitled Office Hours, written for Holland's year 2000 "Month of the Thriller" and authored a short story, "The Mighty Johns," as part of a mystery anthology published in 2002. His works have been in numerous magazines, newspapers, journals, and publications worldwide. He has authored seven original screenplays, and his books have been translated into more than forty-five languages and sold in more than eighty countries. All of his books have been national and international bestsellers. Over one hundred million copies of his books are in print worldwide. He and his wife also founded the Wish You Well Foundation, a nonprofit organization dedicated to supporting literacy efforts across America. He invites you to visit him at DavidBaldacci.com and his foundation at WishYouWellFoundation.org, and to look into its program to spread books across America at FeedingBodyandMind.com. He lives with his family in Virginia.
Praise For The Escape…
"Baldacci has crafted another terrific tale with two great protagonists. Just when the story line seems to veer into familiar areas, Baldacci steers it into another shocking direction. This is the best book yet in the series."—Associated Press on King and Maxwell

"David Baldacci's latest thriller is not only highly relevant, it is also well timed. And the details seem so real that it's hard not to wonder if the author is an insider; the tone is that authentic. An absolute page-turner, King and Maxwell is Baldacci at the pinnacle of his game."—BookReporter.com

"Another fast paced page turner that will keep you glued to the couch...by an author who continues to standout in the increasingly crowded thriller field."—Examiner.com on The Forgotten

"Baldacci is a master when it comes to writing about small-town conspiracies and a lone hero who fights against all odds to clean up corruption. The narrative moves slowly, so the reader has a chance to solve the case along with Puller. It might seem straightforward, but the final reveal will surprise even hardcore thriller junkies."—The Washington Post on The Forgotten

"Readers expect excitement and intrigue in David Baldacci's books, and Zero Day is no exception...As Baldacci's new hero narrowly escapes countless close calls, the pairing of the author's imagination and knowledge create a wild ride for the reader. Puller is gutsy, brash and likable. Best of all, he survives to reappear in the next book of this new series."—The Free-Lance Star on Zero Day

"Zero Day is a nifty, paranoid thriller disguised as a murder mystery, and Baldacci advances it at a speedy clip with a nice mix of intrigue, tantalizing clues and the occasional explosion...Baldacci's books are fast-paced battles between good and evil."—Richmond Times Dispatch on Zero Day