Just Tell Me I Can't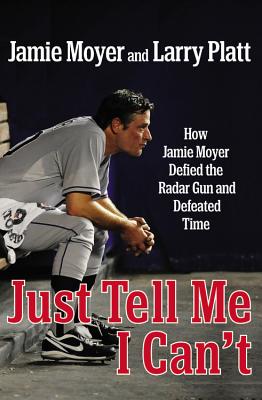 Just Tell Me I Can't
How Jamie Moyer Defied the Radar Gun and Defeated Time
Grand Central Publishing, Hardcover, 9781455521586, 288pp.
Publication Date: September 10, 2013
* Individual store prices may vary.
Buy at Local Store
Enter your zip code below to purchase from an indie close to you.
or
Not Currently Available for Direct Purchase
Description
Long-time fans of the National Pastime have known Moyer's name for more than 25 years. That's because he's been pitching in the bigs for all those years.
With his trademark three pitches - slow, slower, and slowest - the left-handed Moyer is a pinpoint specialist whose won-lost record actually got better as he got older -- from his 20s to his 30s and into 40s. He's only a few wins shy of 300 for his amazing career.
But this is where the book takes an unusual turn. Moyer was just about finished as a big leaguer in his mid-20s until he fatefully encountered a gravel-voiced, highly confrontational sports psychologist named Harvey Dorfman. Listening to the "in-your-face" insights of Dorfman, Moyer began to re-invent himself and reconstruct his approach to his game. Moyer went on to become an All-Star and also a World Series champion.
Yogi Berra once observed that "Half of this game is 90% mental." And Moyer's memoir proves it.
About the Author
Jamie Moyer is a pitcher for the Philadelphia Phillies

Larry Platt is the editor in chief of Philadelphia magazine and the author of Keepin' It Real: A Turbulent Season at the Crossroads with the NBA. His work has appeared in GQ, The New York Times Magazine, Playboy, and Details. He lives in Philadelphia.
Praise For Just Tell Me I Can't…
"With his nearly singular combination of competitive will and pitching guile, it seemed as if Jamie Moyer's big league career would never end. Now that it finally has, I have only one regret: There goes the last active player whose IPod playlist might be similar to my own."

-- Bob Costas

"Just Tell Me I Can't" has it all. It is loaded with grit and heart and soul. It is written with sweet smoothness and insight. It is also the best book I have ever read on the psychology of that complex and marvelous creature called the pro athlete."

--Buzz Bissinger, author of Father's Day, Three Nights in August and Friday Night Lights

"Fascinating. Once the mind breaks out of its prison, anything, anything is possible: even a 49-year-old, throwing no harder than the kid who lives down your block, pitching in the bigs! Ahhh, but how the mind makes that escape and how it yearns to pass that secret on, that's a book in itself . . . the book laying in your lucky hands."

-- Gary Smith, Sports Illustrated

"Jamie was a great competitor and a guy who persevered despite being told 'you can't' time and again. That competitive spirit and belief in himself coupled with a tough stubbornness resulted in a remarkable career that we can all learn from."

-- Cal Ripken, Jr.

"Pitching isn't about who throws the hardest. It 's about who can keep the ball in front of the outfielders the best. Jamie Moyer spent a quarter century doing just that, and 'Just Tell Me I Can't' shows how someone who threw 80 miles per hour became the 34th winningest pitcher in baseball history."

-- Greg Maddux