Dallas 1963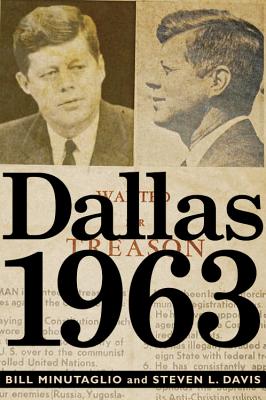 Dallas 1963
Twelve, Hardcover, 9781455522095, 371pp.
Publication Date: October 8, 2013
* Individual store prices may vary.
Buy Now
or
Shop Local
Enter your zip code below to purchase from an indie close to you.
Description
Winner of the PEN Center USA Literary Award for Research NonfictionNamed one of the Top 3 JFK Books by Parade Magazine.
Named 1 of The 5 Essential Kennedy assassination books ever written by The Daily Beast.
Named one of the Top Nonfiction Books of 2013 by Kirkus Reviews.
In the months and weeks before the fateful November 22nd, 1963, Dallas was brewing with political passions, a city crammed with larger-than-life characters dead-set against the Kennedy presidency. These included rabid warriors like defrocked military general Edwin A. Walker; the world's richest oil baron, H. L. Hunt; the leader of the largest Baptist congregation in the world, W.A. Criswell; and the media mogul Ted Dealey, who raucously confronted JFK and whose family name adorns the plaza where the president was murdered. On the same stage was a compelling cast of marauding gangsters, swashbuckling politicos, unsung civil rights heroes, and a stylish millionaire anxious to save his doomed city.
Bill Minutaglio and Steven L. Davis ingeniously explore the swirling forces that led many people to warn President Kennedy to avoid Dallas on his fateful trip to Texas. Breathtakingly paced, DALLAS 1963 presents a clear, cinematic, and revelatory look at the shocking tragedy that transformed America. Countless authors have attempted to explain the assassination, but no one has ever bothered to explain Dallas-until now.
With spellbinding storytelling, Minutaglio and Davis lead us through intimate glimpses of the Kennedy family and the machinations of the Kennedy White House, to the obsessed men in Dallas who concocted the climate of hatred that led many to blame the city for the president's death. Here at long last is an accurate understanding of what happened in the weeks and months leading to John F. Kennedy's assassination. DALLAS 1963 is not only a fresh look at a momentous national tragedy but a sobering reminder of how radical, polarizing ideologies can poison a city-and a nation.
About the Author
Bill Minutaglio is an award-winning journalist and author of First Son: George W. Bush and the Bush Family Dynasty and City on Fire. He has written for many publications including Talk, the New York Times, Outside, and Details, among others. His work was featured, along with that of Ernest Hemingway, in Esquire's list of the greatest tales of survival ever written. He lives with his family in Austin, Texas.

STEVEN L. DAVIS is the Assistant Curator of the Southwestern Writers Collection at Texas State University-San Marcos.
Praise For Dallas 1963…
"Bill Minutaglio and Steven L. Davis's DALLAS 1963 is a brilliantly written, haunting eulogy to John F. Kennedy. By exposing the hatred aimed at our 35th president, the authors demonstrates that America--not just Lee Harvey Oswald--was ultimately responsible for his death. Every page is an eye opener. Highly recommended!"—Douglas Brinkley, professor of history at Rice University and author of Cronkite

"All the great personalities of Dallas during the assassination come alive in this superb rendering of a city on a roller coaster into disaster. History has been waiting fifty years for this book."—Lawrence Wright, author of The Looming Tower and Going Clear

"Minutaglio and Davis capture in fascinating detail the creepiness that shamed Dallas in 1963."—Gary Cartwright, author and contributing editor at Texas Monthly

"In this harrowing, masterfully-paced depiction of a disaster waiting to happen, Minutaglio and Davis examine a prominent American city in its now-infamous moment of temporary insanity. Because those days of partisan derangement look all too familiar today, DALLAS 1963 isn't just a gripping narrative-it's also a somber cautionary tale."—Robert Draper, contributor, New York Times Magazine and author of Do Not Ask What Good We Do: Inside the U.S. House of Representatives

"The authors skillfully marry a narrative of the lead-up to the fateful day with portrayals of the Dixiecrats, homophobes, John Birchers, hate-radio spielers, and the 'superpatriots' who were symptomatic of the paranoid tendency in American politics."—Harold Evans, author of The American Century

"After fifty years, it's a challenge to fashion a new lens with which to view the tragic events of November 22, 1963--yet Texans [Minutaglio and Davis] pull it off brilliantly."—Publishers Weekly (starred review)

"Chilling... The authors make a compelling, tacit parallel to today's running threats by extremist groups."—Kirkus

"A thoughtful look at the political and social environment that existed in Dallas at the time of the president's election... a climate, the authors persuasively argue, of unprecedented turmoil and hatred."—Booklist
Wednesday, Oct 9, 2013
Bill Minutaglio and Steven L. Davis have written a portrait of the city that saw John F. Kennedy's death firsthand. In those years, they say, Dallas was a roiling stew of superpatriotism and Communist paranoia � and, above all, distrust of the president. More at NPR.org