The Utter Relief of Holiness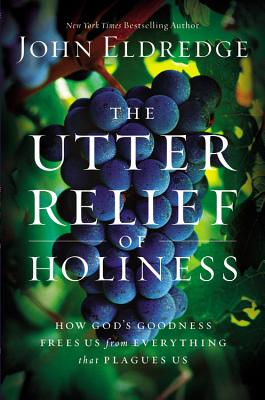 The Utter Relief of Holiness
How God's Goodness Frees Us from Everything That Plagues Us
Faithwords, Hardcover, 9781455525713, 187pp.
Publication Date: January 8, 2013
* Individual store prices may vary.
Not Currently Available for Direct Purchase
or
Shop Local
Enter your zip code below to purchase from an indie close to you.
Description
What a relief it would be to be set free from all that plagues us -- the inner struggle with anger, or contempt, the habitual sins. Is such an experience possible? John Eldredge believes it is, and in THE UTTER RELIEF OF HOLINESS, he shows readers how they can be that free, through the healing work of Christ in their lives. It begins when we discover what the salvation of Jesus Christ means for our own restoration and find that holiness is an expression of the healing of our humanity.

Here is a book that explores the beauty of the genuine goodness available to us in Jesus Christ, and guides the reader through the process whereby God makes us whole and holy by his love. Readers will be relieved. Utterly.
About the Author
John Eldredge is the author of numerous bestselling books including Wild at Heart, Fathered by God, and Beautiful Outlaw. He is also director of Ransomed Heart, a ministry devoted to restoring men and women in the love of God. John lives in Colorado but adventures around the world?often with his sons.
Praise For The Utter Relief of Holiness…
"Ever full of gusto and nerve, Eldredge is as strict and orthodox a pastor as A.W. Tozer, but with hiking boots and a zipline."
-Publisher's Weekly

"Eldredge uses his playful style to uncover the truth about who Jesus really was. With an eyebrow-raising warning about the "poison of religion," he urges readers to turn from religious power displays and legalism and instead spend time falling in love with the man, Jesus. Eldredge repeats tales from the Gospels to reveal a leader who was both humorous and confrontational, generous and moody. Eldredge clearly loves his subject, almost chuckling in delight at Jesus' antics. Readers get an intriguing glimpse of Jesus waiting his turn in line, "snorting" in anger, and artfully outsmarting his enemies. ... Still, readers will find a three-dimensional Jesus and may find themselves re-reading scripture with an eye on characters' feelings."
-Publishers Weekly, on Beautiful Outlaw

"Eldredge's trademark passion and personal transparency offer another inspiring challenge that could revolutionize lives as did his Wild at Heart."
-Christian Retailing, on Beautiful Outlaw, Editor's Pick

"Eldredge's trademark passion and personal transparency offer another inspiring challenge that could revolutionize lives as did his Wild at Heart."
-Christian Retailing, on Beautiful Outlaw

"The Eldredges' newest book has bestseller written all over it...They are honest and forthright, never skirting a difficult issue; instead, they offer hope, insight, and their own lives as examples of what God can accomplish. Their summation of marriage. It can be done. And it is worth it. So is this book."
-Publishers Weekly , on Love and War (Starred Review)

"The best, most insightful book I have read in the last five years. Every man and wife and every mother of a boy really should read this book."
-Charles Swindoll, author of The Church Awakening, on Wild at Heart