White Fire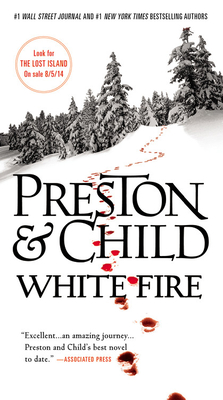 White Fire
Vision, Mass Market Paperbound, 9781455525843, 512pp.
Publication Date: May 27, 2014
* Individual store prices may vary.
Buy at Local Store
Enter your zip code below to purchase from an indie close to you.
or
Buy Here
Description
Past and present collide in Preston and Child's most thrilling novel ever . . .
WHITE FIRE
Special Agent Pendergast arrives at an exclusive Colorado ski resort to rescue his protegee, Corrie Swanson, from serious trouble with the law. His sudden appearance coincides with the first attack of a murderous arsonist who--with brutal precision--begins burning down multimillion-dollar mansions with the families locked inside. After springing Corrie from jail, Pendergast learns she made a discovery while examining the bones of several miners who were killed 150 years earlier by a rogue grizzly bear. Her finding is so astonishing that it, even more than the arsonist, threatens the resort's very existence.
Drawn deeper into the investigation, Pendergast uncovers a mysterious connection between the dead miners and a fabled, long-lost Sherlock Holmes story--one that might just offer the key to the modern day killings as well.
Now, with the ski resort snowed in and under savage attack--and Corrie's life suddenly in grave danger--Pendergast must solve the enigma of the past before the town of the present goes up in flames.

About the Author
Douglas Preston is the co-author with Lincoln Child of the celebrated Pendergast series of novels, including such best-selling titles as "Fever Dream", "The Book of the Dead", "The Wheel of Darkness", and "Relic", which became a number one box office hit movie. His solo novels include the "New York Times" bestsellers "Impact", "Blasphemy", "The Codex", and "Tyrannosaur Canyon". His most recent nonfiction book, "The Monster of Florence", is being made into a film starring George Clooney. Preston is an expert long-distance horseman, a member of the elite Long Riders Guild, and a Fellow of the Royal Geographical Society. He has travelled to remote parts of the world as an archaeological correspondent for "The New Yorker". He also worked as an editor and writer at the American Museum of Natural History in New York and taught nonfiction writing at Princeton University. Preston is the Co-president of International Thriller Writers, and serves on the Governing Council of the Authors Guild.

Lincoln Child is the author of "Utopia" and "Death Match, " as well as a number of "New York Times" bestselling thrillers with Douglas Preston. He lives with his wife and daughter in Morristown, New Jersey.
Praise For White Fire…
"Sherlock Holmes fans will relish Preston and Child's 13th novel featuring eccentric FBI agent Aloysius Pendergast (after 2012's Two Graves), one of their best in this popular series...easily stands on its own with only passing references to Pendergast's complex backstory."—Publishers Weekly (starred review)

"Another highly entertaining and genuinely thrilling story from Preston & Child starring their romantic, faintly gothic, and always mysterious FBI agent, Aloysius Pendergast. As always the prose is elegant, replete with exquisite descriptions, and this time we're treated to dashes of historic characters Conan Doyle and Oscar Wilde, as well as a positively delicious serving of the great Sherlock Holmes. Through myriad shocks, surprises, twists and turns, the suspense never lets up. Great fun to the last page."—Anne Rice


"A mile-a-minute thriller with a deeply entertaining plot and marvelous characters, in a setting that will chill your blood, and not only because it's 10 degrees below zero and covered with snow. My copy is full of crumbs because I couldn't put it down long enough to eat."—Diana Gabaldon


"WHITE FIRE is as incandescent as its title, a beautifully organized, tautly paced book that really did just yank me in and demand that I keep reading. I'm very grateful for the experience."—Peter Straub

"Preston and Child have created a terrific mix of mystery and the unexpected that will keep you reading into the late hours of the night. They promise a great read and they have delivered."—Clive Cussler

"The names Preston & Child on the cover of a book promise a unique reading experience unlike any other, and Two Graves delivers the high thrills one expects from the two masters...authors Douglas Preston and Lincoln Child have delivered another exceptional book....The gothic atmosphere that oozes from the pages of Two Graves will envelop the reader in a totally unique experience...The mystery tantalizes, and the shocks throughout the narrative are like bolts of lightning."—The Washington Post on Two Graves

"Two Graves provides readers exactly what they would expect from a Preston and Child novel --- thrills, high adventure, treacherous plot twists and well-researched scientific intrigue. The story is never predictable, and Pendergast is a multi-layered personality who keeps you guessing throughout."—Bookreporter.com on Two Graves


"Pendergast--an always-black-clad pale blond polymath, gaunt yet physically deadly, an FBI agent operating without supervision or reprimand--lurks at the dark, sharp edge of crime fiction protagonists."—Kirkus Reviews

"Preston and Child continue their dominance of the thriller genre with stellar writing and twists that come at a furious pace. Others may try to write like them, but no one can come close. The best in the business deliver another winner."—RT Book Reviews on Cold Vengeance


"This is no dream; it's the authors' best book in years. Pendergast has to rein in his feelings to pay attention to the details, and it's fun to see the role reversal between him and the usually emotional D'Agosta. Not to be missed by either newcomers or die-hard fans."—Library Journal (starred review) for Fever Dream