Downfall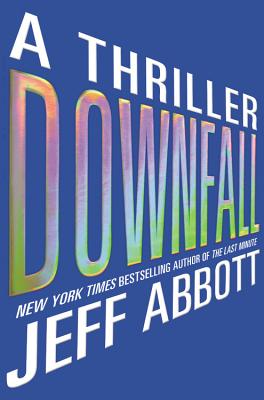 Downfall
Grand Central Publishing, Hardcover, 9781455528431, 453pp.
Publication Date: July 16, 2013
* Individual store prices may vary.
Not Currently Available for Direct Purchase
or
Shop Local
Enter your zip code below to purchase from an indie close to you.
Description
She is a good mother. She will do what she must to ensure that her daughter Diana has a perfect life, just as perfect as the one they've led for the past seven years.

No matter who has to die.

DOWNFALL

The simplest beginnings can unravel a life. For Sam Capra, it is the moment a beautiful young woman walks into his San Francisco bar.

Sam doesn't want trouble. An ex-CIA agent, his only desire now is to build a quiet, peaceful home for himself and his infant son. But Diana Keene is no ordinary customer. She's pursued by two gunmen, and when she finds Sam, she whispers an urgent, desperate plea: "Help me."

And without any warning, Sam is thrust into a fight for his life. For Diana is being hunted by a deadly network-a shadowy alliance of select, influential men and women who use their connections, their authority, and their wealth to bend the world to their will. Now, this network aims its relentless fury against the man interfering with their plans to seize a new level of power: Sam Capra.

Threatened on all sides, Sam has only one hope to survive the network's all-consuming attack and return to his life with his son....he must destroy the man who owns the people who run the world.
About the Author
Jeff Abbott is the "New York Times" bestselling and award-winning author of numerous mystery and suspense novels, including the Sam Capra series, Jordan Poteet series, and the White Mosley series. His novel Sam Capra novel "The Last Minute "won the International Thriller Writers Award. He is a three-time finalist for the Edgar Award. A native Texan, he graduated from Rice University with a degree in history and English and worked as a creative director at an advertising agency before writing full time.
Praise For Downfall…
"Austin's Jeff Abbott continues his winning streak with Downfall, his third thriller starring ex-CIA spy, parkour runner and man-of-dark-wit Sam Capra...As usual, this Capra thriller's pounding intensity is leavened by Sam's sense of humor, even when he's being hunted, tortured or betrayed."—The Dallas Morning News

"Abbott knows how to slowly ratchet up the tension while maintaining great characters and terrific plot twists...The Sam Capra series gets better with each outing, and DOWNFALL is a "must read" for the action-thriller fan."—Associated Press

"Bestseller Abbott packs a lifetime of thrills and suspense into a mere five days...Abbott excels at spinning complex webs of intrigue combining psychological twists and abundant action...Sam is both pawn and knight in an exciting chess game that moves from San Francisco to Portland, Ore.; Denver; Las Vegas; and Chicago."—Publishers Weekly

"DOWNFALL is a pulsing adventure that will keep readers' attention riveted....Abbott's descriptions are vivid: car chases, fight scenes, interrogations and risky escape scenarios. The narrative shocks, repels, intrigues and ultimately draws the reader in as Sam maneuvers to gain the advantage. This is another Abbott thriller that packs a punch."—Fredericksburg Free-Lance Star

"Often wildly entertaining...Abbott manages to pack a ton of action into a book that covers a mere five days."—Austin-American Statesman

"Filled with action, intrigue, twists, and a variety of locales. At 464 pages, it's perfect for a summer weekend's reading pleasure."—Fort Worth Star-Telegram

"Action-packed, never-stop-for-a-breath storytelling."—Dallas Morning News

"Abbott is one of the best thriller writers in the business, and he delivers action and complex characters in an explosive cocktail. The next Capra novel cannot come fast enough."—Associated Press on The Last Minute

"Like Adrenaline, this is a fast-paced thriller with a likable, morally conflicted hero. Sam is in a difficult situation, seemingly forced to commit murder to find his son, and--this is a testament to Abbott's skills as a storyteller--we really don't know whether he will follow through. The book ends on an upbeat note, giving Sam a certain amount of closure. Still, let's hope Abbott isn't through with Sam. He's a very well drawn character, and it would be nice to see him again."—Booklist on The Last Minute

"The Adrenaline rush that won't stop."—San Antonio Express-News

"Twisty, turny, and terrific."—USA TODAY on Adrenaline

"[An] edgy, seat-of-your-pants spy caper."—Entertainment Weekly on Adrenaline

"Outstanding . . . genuinely moving . . . Abbott hits full stride early on and never lets up. Readers who thrive on a relentless narrative pace and a straight line to the finish won't be disappointed."—Publishers Weekly (starred review) on Adrenaline

"Extremely compelling . . . a thriller that will get even the most jaded reader's pulse racing . . . a grand slam home run."—Associated Press on Adrenaline