Designated Daughters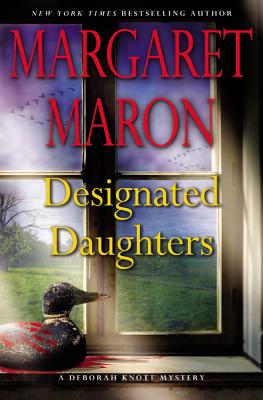 Designated Daughters
Grand Central Publishing, Hardcover, 9781455545285, 320pp.
Publication Date: August 12, 2014
* Individual store prices may vary.
Shop Local
Enter your zip code below to find indies closest to you.
Description
When Judge Deborah Knott is summoned to her ailing Aunt Rachel's bedside, she assumes the worst. Thankfully when she arrives at the hospice center she learns that Rachel hasn't passed; in fact, the dying woman is awake. Surrounded by her children, her extended family, and what seems like half of Colleton County, a semi-conscious Rachel breaks weeks of pained silence with snippets of stories as randomly pieced together as a well-worn patchwork quilt. But the Knott family's joy quickly gives way to shock: less than an hour later, Aunt Rachel is found dead in her bed, smothered with a pillow.
Who would kill a woman on her deathbed? Was it an act of mercy, or murder? As Deborah and her husband, Sheriff's Deputy Dwight Bryant, investigate they cross paths with an unlikely set of suspects: Rachel's longtime minister; her neighbor, the respected local doctor; the friendly single father who often sought her advice; and perhaps the most puzzling party of all, the Designated Daughters, a support group for caregivers that Rachel's own daughter belongs to.
Soon Deborah and Dwight realize that the key to solving this case is hidden in Rachel's mysterious final words. Her mixed-up memories harbored a dark secret-a secret that someone close to them is determined to bury forever.

About the Author
Margaret Maron is the author of twenty-seven novels and two collections of short stories. Winner of several major American awards for mysteries, including the Edgar, Agatha, Anthony, and Macavity, her works are on the reading lists of various courses in contemporary Southern literature. A native Tar Heel, she still lives on her family s country farm a few miles from Raleigh.

Praise For Designated Daughters…
"Smartly written"—The New York Times on The Buzzard Table"As always, Maron skillfully layers an absorbing plot with the doings of Deborah's large extended family and the domestic details of their semirural lifestyle. In addition, the contrast between Deborah, who is warm and caring, and Sigrid, who is reserved and cerebral, gives Maron's tale added depth."—Booklist on The Buzzard Table"Maron...adroitly melds ugly American (open) government secrets with classic whodunit intrigue and stirs the pot by itemizing domestic travails that will touch readers' hearts."—Kirkus Reviews on The Buzzard Table"In Maron's intriguing 18th Deborah Knott mystery...Maron successfully combine a look at family foibles and relationships with a series of moral choices that challenges the characters' sense of law and justice."—Publishers Weekly on The Buzzard Table"This book has plenty of suspense and the characters are well done. One of Ms. Maron's strengths is the believability of her characters. They add to the story and don't distract the reader with useless red herrings. As usual, the interplay between Dwight and Deborah is wonderfully romantic even in the midst of a murder. I have to say that I will be glad to see them back home in the next book. I just love the family dynamics and the southern ambiance in these books. Can't wait for the next book in the series!!"—--- imainlinefiction.blogspot.com on THREE-DAY TOWN"Dwight's obsession with New York gourmet delights and Deborah's passion for stylish, impractical footwear are charming, but Sigrid's slow but steady police work carries the day. Fans who have hankered for Deborah and Sigrid to find themselves in the same story will be charmed."—Kirkus on THREE-DAY TOWN"This is a strong addition to a series that's won Edgar, Agatha, Anthony, and Macavity awards."—Publishers Weekly on THREE-DAY TOWN"[Maron] plots like a modern-day Christie, but the North Carolina charm is all her own."—Kirkus on CHRISTMAS MOURNING"Warm and authentic family relationships are the heart of this evergreen series."—Publishers Weekly on CHRISTMAS MOURNING"[A] winning entry and a fine holiday mystery."—Booklist on CHRISTMAS MOURNING"There's nobody better."—Chicago Tribune"Every Margaret Maron is a celebration of something remarkable."—New York Times Book Review