Balance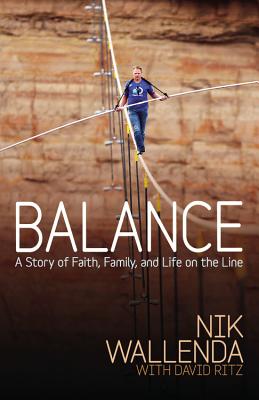 Balance
A Story of Faith, Family, and Life on the Line
Faithwords, Paperback, 9781455545490, 216pp.
Publication Date: June 3, 2014
* Individual store prices may vary.
Buy Now
or
Shop Local
Enter your zip code below to purchase from an indie close to you.
Description
Nik Wallenda, "King of the High Wire," doesn't know fear. As a seventh generation of the legendary Wallenda family, he grew up performing, entertaining, and pushing the boundaries of gravity and balance.
When Nik was four years old, he watched a video from 1978 of his great grandfather, Karl Wallenda, walking between the towers of the Condado Plaza Hotel in Puerto Rico, stumbling, and falling to his death because of faulty rigging. When Nik heard his father quote his great-grandfather-"Life is on the wire, everything else is just waiting"-the words resonated deep within his soul and he vowed to be a hero like Karl Wallenda.
Balance is the theme of Nik's life: between his work and family, his faith in God and artistry, his body and soul. It resonates from him when performing and when no one is looking. When walking across Niagara Falls, he prayed aloud the entire time, and to keep his lust for glory and fame in check, Nik returned to the site of his performance the next day and spent three hours cleaning up trash left by the crowd.
Nik Wallenda is an entertainer who wants to not only thrill hearts, but to change hearts for Christ. Christ is the balance pole that keeps him from falling.

About the Author
On June 15, 2012, high-wire artist Nik Wallenda joined the ranks of legendary daredevils when he became the first person ever to walk across the roaring Niagara Falls. The broadcast was aired on ABC to over thirteen million Americans. Nik is the seventh generation of the Great Wallendas. Every walk Nik does is in honor of his great-grandfather, Karl Wallenda, who died on the wire in 1978. Nik has been performing on a high wire since before he was born when his mother (who still performs with him today) walked while she was six months pregnant with Nik. The Niagara Falls walk marks Nik s seventh world record. By his side on the wire is his wife, Erendira, circus royalty herself. Learn more at www.NikWallenda.com.

David Ritz is the author of the acclaimed novels The Man Who Brought the Dodgers Back to Brooklyn and Blue Notes Under a Green Felt Hat. He is the only four-time winner of the Gleason Book of the Year Award. He's also co-written the memoirs of many celebrities.
Praise For Balance…
"This book makes an irrefutable case for relying on faith as a source of balance and strength."—Booklist Online