The Lawyer's Lawyer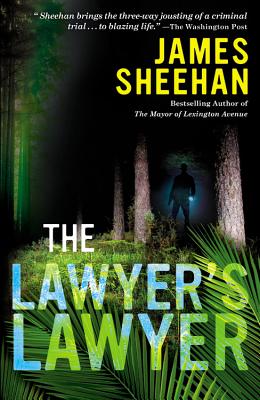 The Lawyer's Lawyer
Center Street, Paperback, 9781455547067, 416pp.
Publication Date: January 14, 2014
* Individual store prices may vary.
Buy at Local Store
Enter your zip code below to purchase from an indie close to you.
or
Buy Here
Description
Jack Tobin, the main character of "The Mayor of Lexington Avenue" returns in this non-stop novel that combines enthralling plot twists with some of the best coutroom fiction being written today.
Tobin, known as the lawyer's lawyer--the guy the best lawyer's say they'd want to represent them in a courtroom battle--undertakes the representation of a serial killer who he believes to be innocent. The Chief of Police is outraged, the citizens of Oakville where the murders occurred, erupt, and the State Attorney is out for blood as Jack challenges the criminal justice system once again.
Sheehan masterfully weaves stories of love and friendship into one man's uncompromising search for truth within the four corners of a courtroom where it is often spoken about but seldom seen. Jack is in a fight for his life and the outcome is in doubt right up to the turn of the final page.
A trial lawyer himself, James Sheehan is also a top-notch thriller writer. Once again he succeeds in translating the depth of his courtroom knowledge into an entertaining and truly fascinating read.
About the Author
James J. Sheehan is currently an assistant professor at Cleveland State University. He received his Ph.D. in education from Ohio University where he was on the faculty from 1994 to 1997. Before teaching at Cleveland State University, he taught history of higher education, elementary, middle, and secondary social studies at the University of North Dakota. His interests are the history of American public education, teacher education, and school reform.

Monica Sheehan is the eleventh child in a large, boisterous family and learned early on to use humor as a survival skill. She nurtured her artistic talent while working as, among other things, a chimney sweep. She has illustrated 12 books and co-authored two. Monica lives?on the Jersey shore.
Praise For The Lawyer's Lawyer…
"Sheehan has written another thriller with some great courtroom scenes."
-The Oklahoman, on The Lawyer's Lawyer

"[Sheehan] is especially good whenever he takes us into a courtroom.... Sheehan brings the three-way jousting of a criminal trial...to blazing life."
-The Washington Post, on The Lawyer's Lawyer

Sheehan's latest novel reads like a hearty, delicious stew. As you dig into each bit of this legal mystery, you come away savoring each part. The plot is well crafted, the characters are authentic, gritty and sympathetic and the story's theme is crystal clear. Combined with Sheehan's efficient storytelling, this story moves the heart.
-RT Book Reviews, on The Lawyer's Lawyer

"Sheehan...writes with bleak clarity...but there's a touch of the poet in his voice."
-The New York Times, on The Mayor of Lexington Avenue

"This is a debut novel but it reads like it was written by a master of the genre."
-Nelson DeMiller, on The Mayor of Lexington Avenue

"Here's a legal thriller that's so good it instantly leaves Grisham and the gang choking on its dust..."
-Booklist, on The Mayor of Lexington Avenue

"To Kill A Mockingbird on steroids..."
-Chicago Tribune, on The Mayor of Lexington Avenue

"An assured, elegant, suspenseful courtroom thriller."
-Kirkus Reviews, on The Law of Second Chances

"Fast moving and tightly written...boasts a gripping story and characters who will make the reader care. Al in all, a stylish and engaging novel."
-Richard North Patterson, on The Law of Second Chances

"Compelling."
-New York Law Journal, on The Law of Second Chances

"As a writer, Sheehan, a former trial lawyer, bears comparison to Scott Turow: his books are noteworthy not just for their intricate plotting but also for their literary finesse."
-Booklist, on The Lawyer's Lawyer

"THE LAWYER'S LAWYER grabbed me from the beginning, and kept me ensnared the entire time. Full of engrossing characters, touching friendships, heart shaking twists and high stakes courtroom action, THE LAWYER'S LAWYER sets the bar quite high for this year's batch of Legal Thrillers."
-The Guilded Earlobe, on The Lawyer's Lawyer (audiobook)