Falling in Love with America Again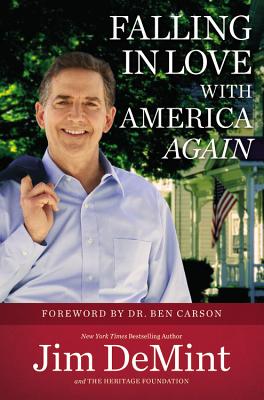 Falling in Love with America Again
Center Street, Hardcover, 9781455549801, 320pp.
Publication Date: March 4, 2014
* Individual store prices may vary.
Buy at Local Store
Enter your zip code below to purchase from an indie close to you.
or
Not Currently Available for Direct Purchase
Description

Serving within the supposed pinnacles of power as a respected and influential U.S. Senator from South Carolina, Jim DeMint often felt frustrated and powerless to fight against the frightening growth of the federal bureaucracy and refute the mistaken idea that ever-bigger government is the solution to the nation's problems.
In his new role as president and CEO of The Heritage Foundation, Jim DeMint has taken on the daunting responsibility of helping to lead Americans themselves to change their country's course, of redirecting us back to our founding principles and restoring and protecting our economy and culture for future generations. He realized that he - and all of us as fellow citizens - must fall in love with America - again.
In this book, DeMint illustrates why Americans must rediscover the power, ingenuity and creativity of our little platoons. He then introduces Americans all across the country whose patriotism was nurtured in exactly the same way, recounting example after example of how they're working together locally in what he calls the "little platoons" - the families, churches, communities and voluntary organizations succeeding on the model that smaller is better. They are the hands-on citizens who make America the exceptional, caring and can-do country it has always been.
DeMint illustrates why each of us - regardless of political party, age, race, religion or ethnicity - must rediscover the power we represent. The country's future is at risk, not just because of constant pressure from "the Bigs" (big government, big banks, big labor, big Wall Street cronies etc.), but because so many of us fear it's too late to solve problems so huge and seemingly intractable. Jim DeMint is here to reassure us that this is not true.
In riveting yet plainspoken style, he tells real-life success stories and educates us via logical, historical and fact-based explanations of the issues (education, taxation, regulation, poverty, labor, health-care, environmentalism, Federalism and more). He affirms the compelling truth that conservative ideas are really American ideas, and they must guide us as we turn our institutions upside-down, taking them from the top-down centrally-controlled bureaucracies they've become back to the bottom-up democratic framework the Constitution intended.
Through this heartfelt, fascinating and inspiring look inside the America of both yesterday and today, and the everyday citizens who are working tirelessly and selflessly to insure its future fulfills the promise of its beginnings, Jim DeMint is beckoning us to join him on one of the most meaningful and momentous journeys we have ever undertaken together: FALLING IN LOVE WITH AMERICA "AGAIN.
About the Author
Jim DeMint was elected senator of South Carolina in 2004 and then chairman of the Senate Steering Committee in 2006. For standing up against wasteful spending in Congress and saving Americans about $17 billion, Wall Street Journal editor Steve Moore called DeMint the taxpayers greatest ally. DeMint was also recently ranked as the Senate s most conservative member by National Journal and as the No. 1 senator voting for responsible tax and spending policies by the National Taxpayers Union. The senator and his wife, Debbie, have four grown children, are doting new grandparents, and live in Greenville, South Carolina.

Dr. Benjamin Carson is a Professor of Neurosurgery, Plastic Surgery, Oncology, and Pediatrics, and the Director of Pediatric Neurosurgery at Johns Hopkins Medical Institutions. He is also the author of four bestselling books---Gifted Hands, Think Big, The Big Picture, and Take the Risk. He serves on the boards of the Kellogg Company, Costco Wholesale Corp., and the Academy of Achievement, among others, and is an Emeritus Fellow of the Yale Corporation. He and his wife, Candy, cofounded the Carson Scholars Fund (www.carsonscholars.org), a 501(c)3 established to counteract America's crisis in education by identifying and rewarding academic role models in the fourth through eleventh grades, regardless of race, creed, religion and socio-economic status, who also demonstrate humanitarian qualities. There are over 4800 scholars in forty-five states. Ben and Candy are the parents of three grown sons and reside in Baltimore County, Maryland. SPANISH BIO: El Dr. Benjamin Carson es profesor de neurocirugia, cirugia plastica, oncologia y pediatria, y director de neurocirugia pediatrica en las Instituciones Medicas John Hopkins. Tambien es autor de tres libros, exitos de ventas: Gifted Hands. Piense en grande, y The Big Picture. Sirve en las juntas directivas de Kellogg Company, Costo, Wholesale Corp y American Promise, entre otras, y es Miembro Emerito de la Yale Corporacion. El y su esposa Candy son padres de tres hijos adultos y viven en el condado de Baltimore, Maryland.
Praise For Falling in Love with America Again…
"In this important book, Jim shares stories of Americans standing rock-solid for their faith and values against the 'Bigs.' He speaks candidly about this anchoring faith, connecting love of God, country, and fellow man."—Tony Perkins, president of Family Research Council

"With its bold ideas, this book is sure to shake up the power structure in Washington-which is what we expect (and love) about Jim DeMint. He is listening to the heartbeat of America: hard work, active faith, and local control drive real solutions. These stories will surprise and inspire you. "—Star Parker, nationally syndicated columnist and political commentator

"The heroes my friend Jim DeMint describes in these pages - like those I cover on the battlefield - are dedicated, resilient and committed to a cause bigger than 'self.' They inspire me - and they will do the same for you. This book is a must read for every American who cares about our future."
—LtCol Oliver North, USMC (Ret), #1 bestselling and founder of Freedom Alliance