Home Run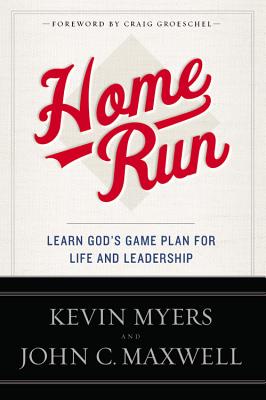 Home Run
Learn God's Game Plan for Life and Leadership
Faithwords, Hardcover, 9781455577224, 240pp.
Publication Date: February 4, 2014
* Individual store prices may vary.
Buy at Local Store
Enter your zip code below to purchase from an indie close to you.
or
Buy Here
Description
You are invited to live life to the fullest.

For five hard years Christian leader Kevin Myers struggled personally and professionally. But it was during that time that God pointed out where he was going wrong and showed him the biblical pattern for living. It proceeded to transform his life, leadership, ministry, and relationships. During that time John Maxwell also became his mentor.

Together, using a baseball diamond as an analogy for following God's plan for life, Myers and Maxwell provide a clear path forward while helping you keep your priorities in order and your eyes on the prize. What is that pattern?

Connection with God: Winning Dependence
Character: Winning Within
Community: Winning with Others
Competence: Winning Results

Challenging, heart-felt, and insightful, Myers' story will connect with anyone who feels their life is falling short of God's promises. The hard-won lessons Myers learned, along with insightful comments and on-point application from Maxwell, will make it possible for you to win in this performance-based culture without losing your soul.

There are no shortcuts or steals in the spiritual journey of life. HOME RUN is a guidebook for living life and learning how to succeed God's way.
About the Author
Kevin Myers is senior lecturer in Social History and Education at the University of Birmingham. He works on the history and sociology of education, and has specific interests in the application of psychological knowledge in school systems. He serves on editorial boards for the journals "History of Education", "History of Education Review "and "Paedagogica Historica: International Journal for History of Education."

John C. Maxwell, the #1New York Timesbestselling author, coach, and speaker who has sold 25 million books, is called America s #1 leadership authority. In 2014, Maxwell received the Mother Teresa Prize for Global Peace and Leadership from the Luminary Leadership Network, and was named the world s most influential leadership expert by Inc. and Business Insider. His organizations The John Maxwell Company, The John Maxwell Team, and EQUIP have trained more than 5 million leaders in 188 countries. For more information visitJohnMaxwell.com.


Praise For Home Run…
"I heard Kevin Myers communicate these principles over a decade ago, and they have stuck with me ever since. I am thrilled that he and John have partnered to make these practical and timeless truths available to a broader audience. Not only are you going to enjoy this book, I have a hunch that you will never forget it . . . and will recommend it to others."
-Andy Stanley, senior pastor of North Point Ministries

"I've known John Maxwell for over twenty-five years. He's a bestselling author, a fantastic leader, and an even better friend. I haven't known Kevin Myers quite as long, but I've watched him become an outstanding leader and innovative, gifted communicator. With John's partnership, Kevin has finally put his most impactful teaching into written form so he can share it with the country. I don't know a single person who would not benefit from reading HOME RUN. I highly recommend it."
-Bill Hybels, senior pastor of Willow Creek Community Church and president of Board of Willow Creek Association

"When I met Kevin, we just clicked. So did our staffs. I knew about him because of the message he gave at Catalyst in 2001. I must have listened to that lesson more than a dozen times because it was so impactful. What he taught then, he shares now in HOME RUN. Read it. Discuss it in your small group. Put it into practice. It's a message that can change your life."
-Perry Noble, founding and senior pastor of NewSpring Church

"Kevin Myers is special. At a time when my priorities needed some serious rearranging, he walked me through the Bible, and led me to a relationship with Jesus Christ. Since then I've heard him preach hundreds of messages and the book that you have in front of you right now represents Kevin at his best. Read it and discover how you can be at your best, as a dad, husband, mom, wife, business person, you name it...it's all in how you run life's bases, and for so long I was running the wrong way. Kevin Myers and John Maxwell teaming up to talk leadership is like Hank Aaron and Willie Mays talking about how to hit a fastball. You can't help but listen and soak it in. HOME RUN-it's a Grand Slam."
-Ernie Johnson, Jr., sportscaster, TNT and TBS