Robert Ludlum's (TM) the Bourne Ascendancy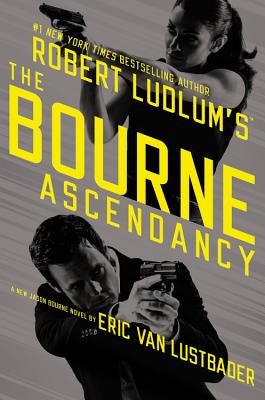 Robert Ludlum's (TM) the Bourne Ascendancy
Grand Central Publishing, Hardcover, 9781455577538, 464pp.
Publication Date: June 10, 2014
* Individual store prices may vary.
Buy at Local Store
Enter your zip code below to purchase from an indie close to you.
or
Not Currently Available for Direct Purchase
Description
Jason Bourne is one of the most popular and compelling characters in contemporary fiction. Originally created by bestselling author Robert Ludlum, the Jason Bourne series was later adapted into films that have become modern classics. Now, New York Times bestselling writer Eric Van Lustbader carries on Jason Bourne's story with a new novel about the rogue secret agent who has lost his memory . . .
THE BOURNE ASCENDANCY
In this thrilling and absorbing new novel Jason Bourne is faced with an impossible mission. He has been hired to impersonate a high-level government minister at a political summit meeting in Qatar, shielding the minister from any assassination attempts. Suddenly, armed gunmen storm the room, killing everyone but Bourne. Their target, however, isn't the minister Bourne impersonates....it is Bourne himself.
Kidnapped and transported to an underground bunker, Bourne finds himself face-to-face with an infamous terrorist named El Ghadan ("Tomorrow"). El Ghadan holds as his captive Soraya Moore, former co-director of Treadstone, and a close friend to Bourne, along with her two year old daughter.
Meanwhile, the President of the United States is in the midst of brokering a historic peace treaty between the Israelis and the Palestinians-an event that El Ghadan is desperate to prevent. He demands that Bourne carry out a special mission: kill the President. If Bourne refuses, Soraya and her daughter will die.
Bourne must make a monstrous choice: save Soraya and her daughter, or save the President.
About the Author
Eric Van Lustbader is the author of numerous bestselling thrillers, including "Last Snow, First Daughter, Blood Trust, The Bourne Legacy, The Bourne Dominion" and "The Ninja" and The Pearl series. His books have been translated into over twenty languages. Born and raised in Greenwich Village in New York City, Lustbader worked in the New York public school system and in the music business before turning to writing full-time. He lives in Manhattan and on the South Fork of Long Island with his wife, Victoria, who is also an accomplished author.

Eric Lustbader is the author of nearly forty novels, including the "New York Times "bestseller "The Ninja", which introduced Nicholas Linnear, one of modern fiction's most beloved and enduring heroes. In 2004, Mr. Lustbader was chosen by the estate of the late Robert Ludlum to continue the Jason Bourne novels, and has published eight international bestselling works to rave reviews. He is also the author of two successful and highly regarded series of fantasy novels, "The Sunset Warrior Cycle" and "The Pearl Saga". He and his wife Victoria are residents of the South Fork of Long Island.
Praise For Robert Ludlum's (TM) the Bourne Ascendancy…
"Eric Van Lustbader has once again taken the Bourne saga to another level of greatness, as The Bourne Retribution is filled with non-stop action. Fans of the superspy will find themselves rooting for him right up until the last page is turned."—Book Reporter on The Bourne Retribution

"Teeming with the usual intrigue and page-turning action."—Star-Telegram (TX) on The Bourne Retribution

"Eric Van Lustbader keeps the action and plot moving forward, and the tension never lets up...readers most assuredly will be gasping for breath as each eye-opening chapter unfolds."—Book Reporter on The Bourne Imperative

"In true Bourne fashion, "The Bourne Imperative" is fast-paced and full of action. There are twists and turns that even the grandest of plot detectives could not forsee."—The Daily Reporter (IA) on The Bourne Imperative

"Readers familiar with the story of Jason Bourne and Treadstone will be flipping pages as fast as they can...Van Lustbader pulls readers through the story with gusto...For series fans, a solid continuation of Bourne's story."—Booklist on The Bourne Imperative

"Established fans will find all the usual cliffhangers, hairbreadth escapes, and multiple betrayals they expect from this series."—Publisher's Weekly on The Bourne Imperative

"The twists, the nonstop action, and the multilayered plot that Ludlum fans expect are here in abundance. Fans of the Bourne films will eat this one up."—Booklist on The Bourne Dominion

"Complicated, action-packed.... it's a testament to Lustbader's skills that he can keep everyone in place and blazing away without losing track of the ongoing plot."—Publisher's Weekly on The Bourne Dominion

"Thriller addicts who love intricate webs of conspiracy mixed with an adrenaline rush of action and global adventure will snap this one up."—Library Journal on The Bourne Objective