The Better Angels of Our Nature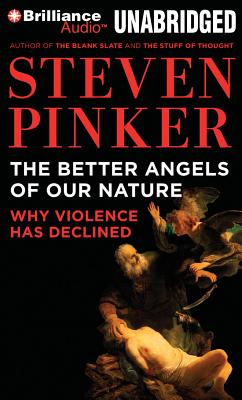 The Better Angels of Our Nature
Why Violence Has Declined
Brilliance Corporation, Compact Disc, 9781455839612
Publication Date: September 25, 2012
* Individual store prices may vary.
Buy at Local Store
Enter your zip code below to purchase from an indie close to you.
or
Not Currently Available for Direct Purchase
Description
We ve all asked, What is the world coming to? But we seldom ask, How bad was the world in the past? In this startling new book, the bestselling cognitive scientist Steven Pinker shows that the world of the past was much worse. In fact, we may be living in the most peaceable era yet.
Evidence of a bloody history has always been around us: the genocides in the Old Testament and crucifixions in the New; the gory mutilations in Shakespeare and Grimm; the British monarchs who beheaded their relatives and the American founders who dueled with their rivals.
Now the decline in these brutal practices can be quantified. Tribal warfare was nine times as deadly as war and genocide in the 20th century. The murder rate in medieval Europe was more than thirty times what it is today. Slavery, sadistic punishments, and frivolous executions were unexceptionable features of life for millennia, then were suddenly abolished. Wars between developed countries have vanished, and even in the developing world, wars kill a fraction of the numbers they did a few decades ago. Rape, hate crimes, deadly riots, child abuse all substantially down.
How could this have happened, if human nature has not changed?
Pinker argues that the key to explaining the decline of violence is to understand the inner demons that incline us toward violence and the better angels that steer us away. Thanks to the spread of government, literacy, trade, and cosmopolitanism, we increasingly control our impulses, empathize with others, debunk toxic ideologies, and deploy our powers of reason to reduce the temptations of violence.
Pinker will force you to rethink your deepest beliefs about progress, modernity, and human nature. This gripping audiobook is sure to be among the most debated of the century so far.
This updated edition include bonus reference material provided as a PDF.
About the Author
One of Time magazine's "100 Most Influential People in the World Today," Steven Pinker is the author of seven books, including How the Mind Works and The Blank Slate both Pulitzer Prize finalists and winners of the William James Book Award. He is an award-winning researcher and teacher, and a frequent contributor to Time and the New York Times.

Arthur Morey has recorded over two hundred audiobooks in history, fiction, science, business, and religion, earning a number of AudioFile Earphones Awards and two Audie Award nominations. His plays and songs have been produced in New York, Chicago, and Milan, where he has also performed.