Once a Witch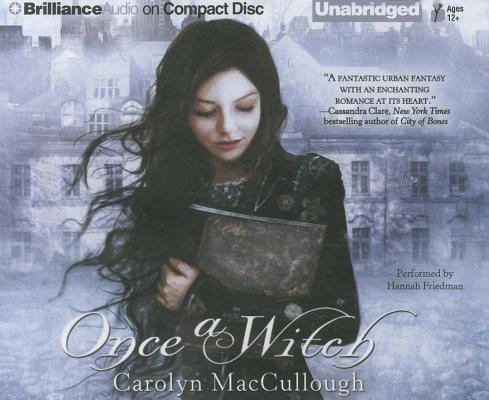 Once a Witch
Brilliance Corporation, Compact Disc, 9781455857449
Publication Date: November 15, 2011
* Individual store prices may vary.
Buy at Local Store
Enter your zip code below to purchase from an indie close to you.
or
Not Currently Available for Direct Purchase
Description
Tamsin Greene comes from a long line of witches, and on the day she was born, her grandmother proclaimed she would be the most Talented among them. But Tamsin's magic never showed up. Now, seventeen years later, she spends most of her time at boarding school in Manhattan, where she can at least pretend to be normal. But during the summers, she's forced to return home and work at her family's bookstore/magic shop. One night a handsome young professor from New York University arrives in the shop and mistakes Tamsin for her extremely Talented older sister. For once, it's Tamsin who's being looked at with awe and admiration, and before she can stop herself, she agrees to find a family heirloom for him that was lost more than a century ago. But the search and the stranger prove to be more sinister than they first appeared, ultimately sending Tamsin on a treasure hunt through time that will unlock the secret of her true identity, unearth the past sins of her family, and unleash a power so strong and so vengeful, it could destroy them all. An absorbing and elegant urban fantasy. Publishers Weekly Carolyn MacCullough casts a mesmerizing spell with Once a Witch. Family secrets and sibling rivalry, time-travel and magical Talents all brew together to create a superlative and supernatural coming-of-age story. Add an epic battle of good versus evil and an enchanting first kiss, and this bewitching novel commands a sequel. Megan McCafferty, New York Times best-selling author of the Jessica Darling series Quick and suspenseful, with a climax that is camera-ready, this will appeal to readers who enjoy family drama and teen romance salted with magical action-adventure. The Bulletin.
About the Author
Carolyn MacCullough is the author of the young adult urban fantasy "Once a Witch" and three other YA novels. Born and raised in Connecticut, she has lived in Sicily, Scotland, and even the wilds of New Jersey before settling down in Brooklyn where she now lives with her husband and daughter. In addition to writing, she also teaches creative writing at NYU and The New School. Visit her website at www.carolynmaccullough.com.

Hannah Friedman (Peekskill, NY) is a recent Yale University graduate. She is the daughter of gold-record singer/songwriter Dean Friedman. An article titled "When Your Friends Become the Enemy" about her experiences applying to an Ivy League University was published in "Newsweek" in 2004. Ms. Friedman is the winner of the Yale 2007 Playwright's Festival, as well as the New York Television Festival's 2008 "Flying Solo" Pilot Contest. Her pilot about transitioning from college student to author will debut at the Festival in September 2008.