Great on the Job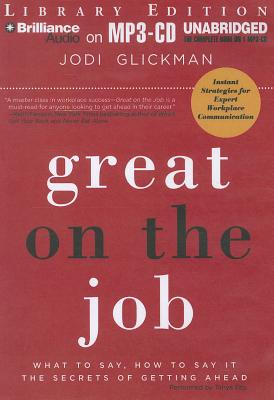 Great on the Job
What to Say, How to Say It: The Secrets of Getting Ahead
Brilliance Audio, MP3 CD, 9781455864041
Publication Date: February 2012
* Individual store prices may vary.
Shop Local
Enter your zip code below to find indies closest to you.
Description
Do you always get the assignments you want? Do you know how to ask for help without sounding dumb? How to answer a question you don t know the answer to? All the while sounding smart, capable, and competent? If the answer is no, you re not alone. Jodi Glickman founded the communication consulting firm Great on the Job to help rising stars of the business world with the same issues. Now, for the first time, the training program that Jodi uses with her top-tier clients is available in book form. Great on the Job teaches people how to talk to one another at work, every day, in every situation, when you re on top of your game and when you have no idea what's going on. In these pages, you ll get all the building blocks you need to develop more dynamic and honed communication skills: 1. Dozens of helpful case studies, all based on real workplace scenarios 2. Easy-to-implement strategies that are tactical and practical 3. Sample language and phrases that you can adapt and use right away Business is, and always will be, a personal thing. In today's global economy, it's not always the smartest, hardest-working, or most technically savvy who succeed. Instead, it's the people with dynamic communication skills the ones who communicate effectively, strategically, and persuasively no matter the situation. Great on the Job will teach you to do just that. Glickman shows a rich understanding of how basic communications can make or break business relationships and careers. Joseph Thomas, Dean of the Johnson Graduate School of Management at Cornell University.
About the Author
Jodi Glickman is the founder of Great on the Job and a regular contributor to the Harvard Business Review. Jodi worked as an investment banker at Goldman Sachs and served as a Peace Corps volunteer in Chile. She holds an MBA from the Johnson School at Cornell. Jodi lives in Chicago with her family.

Tanya Eby has a B.A. in English Language & Literature from Grand Valley State University and an M.F.A. in Creative Writing from the University of Southern Maine. Tanya has had a series of jobs: clerk for one day at Victoria's Secret, assistant at Carnegie Hall for nine months, voiceover performer for ten years and writer for as long as she can remember. She has two quirky children and lives in Grand Rapids, Michigan.