Throne of the Crescent Moon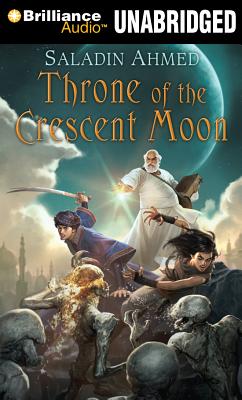 Throne of the Crescent Moon
Brilliance Audio, Compact Disc, 9781455878253
Publication Date: December 31, 2012
* Individual store prices may vary.
Buy at Local Store
Enter your zip code below to purchase from an indie close to you.
or
Not Currently Available for Direct Purchase
Description
The Crescent Moon Kingdoms, home to djenn and ghuls, holy warriors and heretics, are at the boiling point of a power struggle between the iron-fisted Khalif and the mysterious master thief known as the Falcon Prince. In the midst of this brewing rebellion a series of brutal supernatural murders strikes at the heart of the Kingdoms. It is up to a handful of heroes to learn the truth behind these killings: Doctor Adoulla Makhslood, the last real ghul hunter in the great city of Dhamsawaat, just wants a quiet cup of tea. Three score and more years old, he has grown weary of hunting monsters and saving lives, and is more than ready to retire from his dangerous and demanding vocation. But when an old flame's family is murdered, Adoulla is drawn back to the hunter's path. Raseed bas Raseed, Adoulla's young assistant, is a hidebound holy warrior whose prowess is matched only by his piety. But even as Raseed's sword is tested by ghuls and manjackals, his soul is tested when he and Adoulla cross paths with the tribeswoman Zamia. Zamia Badawi, Protector of the Band, has been gifted with the near-mythical power of the lion-shape, but shunned by her people for daring to take up a man's title. She lives only to avenge her father's death. Until she learns that Adoulla and his allies also hunt her father's killer. Until she meets Raseed. When they learn that the murders and the Falcon Prince's brewing revolution are connected, the companions must race against time and struggle against their own misgivings to save the life of a vicious despot. In so doing they discover a plot for the Throne of the Crescent Moon that threatens to turn Dhamsawaat, and the world itself, into a blood-soaked ruin.
About the Author
SALADIN AHMED was born in Detroit. He has been a finalist for the Nebula Award for Best Short Story, the Campbell Award for Best New Science Fiction or Fantasy Writer, and the Harper s Pen Award for best Sword and Sorcery/Heroic Fantasy Short Story. His short fiction has earned praise from Publishers Weekly and Locus Magazine, has appeared in numerous magazines and podcasts, including Orson Scott Card s Intergalactic Medicine Show and the Hugo-winning StarshipSofa, and has been translated into Portuguese, Czech, Dutch, and Romanian. He lives with his wife and twin children in Michigan.

Phil Gigante is an APA Audie Award winner (The Dark Highlander, The Stainless Steel Rat, and The Watch That Ends the Night), and winner of over a dozen Audiofile Magazine Earphones Awards. He has narrated and directed more than 250 books, and was twice named a "Best Voice in Mystery and Suspense" by Audiofile Magazine. He has been named a Best Male Narrator in the categories of Romance, Science Fiction, Militaria, and Mystery/Suspense, as well as "Favorite Dual Narrator" (with Natalie Ross). Phil also works in film, TV and radio, and is the Producer/Director of Gigantic Productions theatre company. He makes his home in the Midwest.