Class Warfare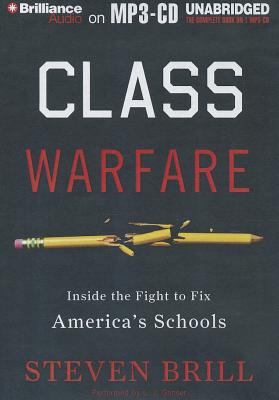 Class Warfare
Inside the Fight to Fix America's Schools
Brilliance Corporation, MP3 CD, 9781455884254
Publication Date: August 14, 2012
* Individual store prices may vary.
Buy at Local Store
Enter your zip code below to purchase from an indie close to you.
or
Not Currently Available for Direct Purchase
Description
In a reporting tour de force, award-winning journalist Steven Brill takes an uncompromising look at the adults who are fighting over America's failure to educate its children and points the way to reversing that failure.
Brill's vivid narrative filled with unexpected twists and turns takes us from the Oval Office, where President Obama signs off on an unprecedented plan that will infuriate the teachers unions because it offers billions to states that win an education reform contest; to boisterous assemblies, where parents join the fight over their children's schools; to a Fifth Avenue apartment, where billionaires plan a secret fund to promote school reform; to a Colorado high school, where students who seemed destined to fail are instead propelled to college; to state capitols across the country, where school reformers hoping to win Obama's contest push bills that would have been unimaginable a few years ago.
It's the story of an unlikely army fed-up public school parents, Ivy League idealists, hedge-funders, civil rights activists, conservative Republicans, insurgent Democrats squaring off against unions that the reformers claim are protecting a system that works for the adults but victimizes the children.
"Class Warfare" is filled with extraordinary people taking extraordinary paths: a young woman who goes into teaching almost by accident, then becomes so talented and driven that fighting burnout becomes her biggest challenge; an antitrust lawyer who almost brought down Bill Gates's Microsoft and now forms a partnership with Bill and Melinda Gates to overhaul New York's schools; a naive Princeton student who launches an army of school reformers with her senior thesis; a California teachers union lobbyist who becomes the mayor of Los Angeles and then the union's prime antagonist; a stubborn young teacher who, as a child growing up on Park Avenue, had been assumed to be learning disabled but ends up co-founding the nation's most successful charter schools; and an anguished national union leader who walks a tightrope between compromising enough to save her union and giving in so much that her members will throw her out.
Brill not only takes us inside their roller-coaster battles, he also concludes with a surprising prescription for what it will take from both sides to put the American dream back in America's schools.
About the Author
Steven Brill is the CEO of Press+, which has created a new business model for journalism to flourish online. He has written feature articles for The New Yorker (where he wrote about the Rubber Rooms that housed teachers accused of incompetence), The New York Times Magazine, and Time. He teaches journalism at Yale and founded the Yale Journalism Initiative. Brill founded and ran The American Lawyer magazine, Court TV, and Brill s Content magazine. He is the author of After: How America Confronted the September 12 Era and The Teamsters. He is married with three children and lives in New York.

L. J. Ganser is the winner of three AudioFile Earphones Awards and the 2005 Nonfiction Audie for his work in "The Island at the Center of the World. "He has appeared onstage in New York and in regional productions, has several episodes of" Law & Order" in his list of credits, and has recorded over two hundred audiobooks. Before becoming an actor, he was a ship s cook in Maine, a roofer, a painter, and a swim team coach.