Happy Birthday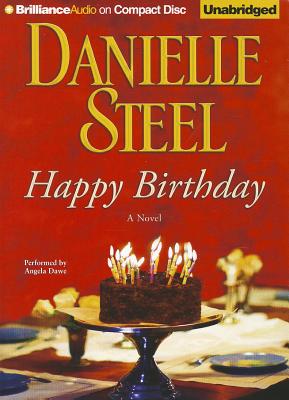 Happy Birthday
Brilliance Corporation, Compact Disc, 9781455897933
Publication Date: July 24, 2012
* Individual store prices may vary.
Buy Now
or
Shop Local
Enter your zip code below to purchase from an indie close to you.
Description
Valerie Wyatt is the queen of gracious living and the arbiter of taste with a successful TV show. Since her long-ago divorce, she's worked hard to reach the pinnacle of her profession and to create a camera-ready life in her Fifth Avenue penthouse. So why is she so depressed? All the hours with her personal trainer, the careful work of New York's best hairdressers, cosmetic surgeons, and her own God-given bone structure and great looks can t fudge the truth or her lies about it: Valerie is turning sixty. Valerie's daughter, April, has no love life, no rest, and no prospect of that changing in the foreseeable future. Her popular one-of-a-kind restaurant in downtown New York, where she is chef and owner, consumes every ounce of her attention and energy. Ready or not, though, April's life is about to change, in a tumultuous transformation that begins the morning it hits her: She's thirty. And what does she have to show for it? A restaurant, no man, no kids. Jack Adams once threw a football like a guided missile. Twelve years after retiring from the NFL, he is the most charismatic sports analyst on TV, a man who has his pick of the most desirable twentysomething women. But after a particularly memorable Halloween party, Jack wakes up on his fiftieth birthday, his back thrown out of whack, feeling every year his age. A terrifying act of violence, an out-of-the-blue blessing, and two extremely unlikely love affairs soon turn lives inside out and upside down. In a novel brimming with warmth and insight, beginning on one birthday and ending on another, Valerie, April, and Jack discover that life itself can be a celebration and that its greatest gifts are always a surprise.
About the Author
Danielle Steel has been hailed as one of the world's most popular authors, with over 600 million copies of her novels in print. Her many international bestsellers include A Perfect Life, Power Play, Winners, First Sight, Until the End of Time, The Sins of the Mother, Friends Forever, Betrayal, Hotel Vendome, Happy Birthday, and other highly acclaimed novels. She is also the author of His Bright Light, the story of her son Nick Traina's life and death, A Gift of Hope, a memoir of her work with the homeless, and Pure Joy, about the dogs she and her family have loved.

Angela Dawe is originally from Lansing, Michigan, and currently calls Chicago home. In addition to audiobook narration, she has worked in film, television, theater, and improvisational comedy.