The Bull Slayer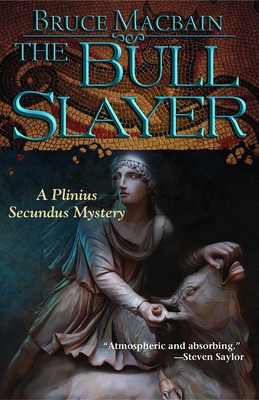 The Bull Slayer
Poisoned Pen Press, Hardcover, 9781464201080, 271pp.
Publication Date: March 5, 2013
* Individual store prices may vary.
Buy Now
or
Shop Local
Enter your zip code below to purchase from an indie close to you.
Description
A turbulent frontierprovince, rotten with corruption and seething with hatred of Rome a barbarian god whose devotees may include a murderer a clever and unscrupulous faith healer who knows everyone's secrets a boy who struggles toward manhood though stricken with the Sacred Disease: these are the elements in a mystery that Pliny, newly appointed governor of Bithynia, confronts when a high Roman official is found murdered on a desolate hillside, miles from the capital. But as Pliny pursues one baffling lead after another, he is being betrayed where he least expects it: his beautiful wife, neglected and lonely in an alien city, falls desperately in love with a handsome young provincial an affair which threatens to bring not only pain but ruin to Pliny's career. All these threads come together in a surprising and tragic finale.

About the Author
Bruce Macbain was born in Chicago, Illinois. As a child, he squandered whole days reading science fiction and history. Greek and Roman history held a special fascination for him and this led eventually to acquiring a master's degree in Classical Studies and a doctorate in Ancient History. As an assistant professor of Classics, he taught courses in Late Antiquity and Roman religion--which is a particular interest of his--and published a few impenetrable scholarly monographs, which almost no one read. He eventually left academe and turned to teaching English as a second language, a field he was trained in while serving as a Peace Corps Volunteer in Borneo in the 60s.
Macbain has written a series of historical mysteries set in ancient Rome, (Roman Games, 2010, and The Bull Slayer, 2013) featuring the senatorial letter-writer Pliny the Younger as his protagonist, assisted by other literary figures such as the poet Martial and the biographer Suetonius. He also does a bit of book reviewing for the Historical Novels Review and Foreword magazine. Odin's Child is the first in his Viking series, The Odd Tangle-Hair Saga.