Her Boyfriend's Bones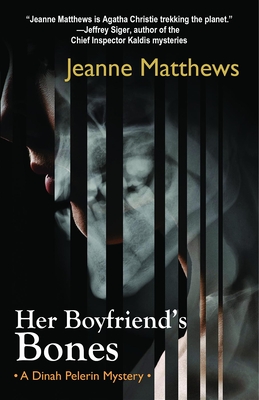 Her Boyfriend's Bones
Poisoned Pen Press, Hardcover, 9781464201370, 269pp.
Publication Date: June 4, 2013
* Individual store prices may vary.
Buy at Local Store
Enter your zip code below to purchase from an indie close to you.
or
Buy Here
Description
In 1973, on a remote beach on the Greek island of Samos, a movie star named Marilita Stephan murdered her boyfriend, his mother, and a powerful colonel in the military junta, a crime for which she was executed.Forty years later, Dinah Pelerinarrives on Samos to spend the summer with her Norwegian boyfriend Thor before she joins an archaeological dig nearby.A policeman on sabbatical, Thor seems unduly fascinated by the murders and Dinah soon discovers that the had more than romance in mind when he chose their holiday destination. Guns supplied to the former junta by the American CIA have turned up in Norway in the hands of terrorists and Norwegian intelligence has traced the source of the weapons to Samos.The island has become a transit point for refugees fleeing the Middle East. When an Iraqi immigrantwith a fake ID is killed, Thor suspects a link to the arms traffickers.But before he can investigate, his car plunges off a cliff and he disappears.Greece's economic woes have bred corruption and Dinah fears that he was betrayed by local police and either kidnapped or murdered.Unable to trust anyone, she sets out to find him.The deeper she digs, the more connections she sees between the present crime wave and what happened in 1973.Marilitamay have been innocent and the fate of her boyfriend holds eerie parallels to Thor's disappearance. Dinah must be smarter and braver than she's ever been to prevent another Greek tragedy.

About the Author
Jeanne Matthews is the author of the Dinah Pelerin international mystery series including Bones of Contention, Bet Your Bones, and Bonereapers.Like her anthropologist sleuth, Matthews travels around the world learning about other cultures and mythologies, which she incorporates into her novels.

"