Season of the Witch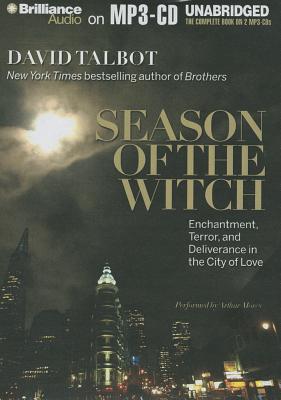 Season of the Witch
Enchantment, Terror, and Deliverance in the City of Love
Brilliance Audio, MP3 CD, 9781469206844
Publication Date: March 5, 2013
* Individual store prices may vary.
Buy at Local Store
Enter your zip code below to purchase from an indie close to you.
or
Not Currently Available for Direct Purchase
Description
"Season of the Witch" is the first audiobook to fully capture the dark magic of San Francisco in this breathtaking period, when the city radically changed itself and then revolutionized the world. The cool gray city of love was the epicenter of the 1960s cultural revolution. But by the early 1970s, San Francisco's ecstatic experiment came crashing down from its starry heights. The city was rocked by savage murder sprees, mysterious terror campaigns, political assassinations, street riots, and finally a terrifying sexual epidemic. No other city endured so many calamities in such a short time span.
David Talbot takes us deep into the riveting story of his city's ascent, decline, and heroic recovery. He draws intimate portraits of San Francisco's legendary demons and saviors: Charles Manson, Patty Hearst and the Symbionese Liberation Army, Jerry Garcia, Janis Joplin, Bill Graham, Herb Caen, the Cockettes, Harvey Milk, Jim Jones and the Peoples Temple, Joe Montana and the Super Bowl 49ers. He reveals how the city emerged from the trials of this period with a new brand of San Francisco values, including gay marriage, medical marijuana, immigration sanctuary, universal health care, recycling, renewable energy, consumer safety, and a living wage mandate. Considered radical when they were first introduced, these ideas have become the bedrock of decent society in many parts of the country, and exemplify the ways that the city now inspires us toward a live-and-let-live tolerance, a shared sense of humanity, and an openness to change.
As a new generation of activists and dreamers seeks its own path to a more enlightened future, "Season of the Witch" with its epic tale of the wild and bloody birth of San Francisco values offers both inspiration and cautionary wisdom.
About the Author
David Talbot, hailed as a pioneer of online journalism by The New York Times, is the founder and former editor-in-chief of Salon. He has worked as a senior editor for Mother Jones magazine and as a features editor for the San Francisco Examiner. Talbot has written for The New Yorker, Rolling Stone, and other publications. He lives with his family in San Francisco.

Arthur Morey has recorded over two hundred audiobooks in history, fiction, science, business, and religion, earning a number of "AudioFile" Earphones Awards and two Audie Award nominations. His plays and songs have been produced in New York, Chicago, and Milan, where he has also performed.