The Longest Way Home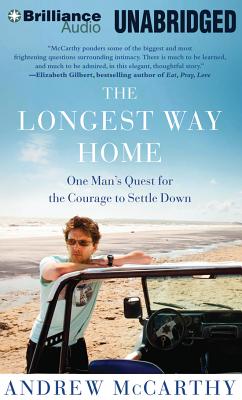 The Longest Way Home
One Man's Quest for the Courage to Settle Down
Brilliance Audio, MP3 CD, 9781469248431
Publication Date: September 18, 2012
* Individual store prices may vary.
Buy at Local Store
Enter your zip code below to purchase from an indie close to you.
or
Not Currently Available for Direct Purchase
Description
Unable to commit to his fiancee of nearly four years and with no clear understanding of what's holding him back Andrew McCarthy finds himself at a crossroads, plagued by doubts that have clung to him for a lifetime. Something in his character has kept him always at a distance, preventing him from giving himself wholeheartedly to the woman he loves and from becoming the father that he knows his children deserve. So before he loses everything he cares about, Andrew sets out to look for answers.
Hobbling up the treacherous slopes of Mt. Kilimanjaro, dodging gregarious passengers aboard an Amazonian riverboat, and trudging through dense Costa Rican rain forests Andrew takes us on exotic trips to some of the world's most beautiful places, but his real journey is one of the spirit.
On his soul-searching voyages, Andrew traces the path from his New Jersey roots, where acting saved his life and early fame almost took it away to his transformation into a leading travel writer. He faces the real costs of his early success and lays bare the evolving nature of his relationships with women. He explores a strained bond with his father, and how this complex dynamic shapes his own identity as a parent. Andrew charts his journey from ambivalence to confidence, from infidelity and recklessness to acceptance and a deeper understanding of the internal conflicts of his life.
A gifted writer with an unsparing eye, Andrew relishes bizarre encounters with the characters whom he encounters, allowing them to challenge him in unexpected ways. He gets into peculiar, even dangerous situations that put him to the test with mixed results. Disarmingly likable, Andrew is open, honest, and authentic, and what emerges is an intimate memoir of self-discovery and an unforgettable love song to the woman who would be his wife.
About the Author
Andrew McCarthy has been a fixture on screen, television, and stage since making his debut at age nineteen in "Class". He has appeared in such films as "Pretty in Pink, St. Elmo's Fire, " and" Less Than Zero". For the last ten years, he has been a prolific and successful travel writer, publishing with "National Geographic Traveler Magazine", "The Atlantic", "Slate", "Travel + Leisure", and "The""Wall Street Journal, "among other publications. He has won the Lowell Thomas Award twice, including being named Travel Journalist of the Year by the Society of American Travel Writers, and has been cited twice for "notable" work in the Best American Travel Series. He lives in New York.

Andrew McCarthy has been a fixture on screen, television and stage as an actor?and more recently as a director and writer?since making his screen debut at age 19 in Class. He has appeared in more than two-dozen films, including The Spiderwick Chronicles, The Joy Luck Club, Mulholland Falls, and of course such iconic movies as Pretty in Pink, St. Elmo's Fire, and Less Than Zero, as well as cult favorites Weekend At Bernie's and Mannequin. He recently co-starred on the NBC show Lipstick Jungle for two seasons (where he also worked as a director). Presently, he can be seen in a recurring role on the USA hit Royal Pains. Some of his other television work includes appearances in Gossip Girl (where he again worked as a director), Stephen King's Kingdom Hospital, and all the Law & Order's. In the theater, he has starred on Broadway in the Tony Award winning play, Side Man, and in The Boys of Winter. Other New York appearances include Neil Labute's Fat Pig and John Patrick Shanley's Psycopathia Sexualis, among many others. McCarthy is a contributing editor at National Geographic Traveler Magazine. He's also written for The Atlantic, Slate, Travel+Leisure, Bon Appetit, Islands, Afar, and National Geographic Adventure. He lives in New York.