Ask the Beasts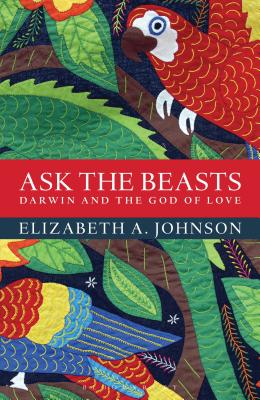 Ask the Beasts
Darwin and the God of Love
Bloomsbury Academic, Hardcover, 9781472903730, 352pp.
Publication Date: March 13, 2014
* Individual store prices may vary.
Buy Now
or
Shop Local
Enter your zip code below to purchase from an indie close to you.
Description
For millennia plant and animal species have received little sustained attention as subjects of Christian theology and ethics in their own right. Focused on the human dilemma of sin and redemptive grace, theology has considered the doctrine of creation to be mainly an overture to the main drama of human beings relationship to God. What value does the natural world have within the framework of religious belief? The crisis of biodiversity in our day, when species are going extinct at more than 1,000 times the natural rate, renders this question acutely important.Standard perspectives need to be realigned; theology needs to look out of the window, so to speak as well as in the mirror." Ask the Beasts: Darwin and the God of Love" leads to the conclusion that love of the natural world is an intrinsic element of faith in God and that far from being an add-on, ecological care is at the centre of moral life.
About the Author
Elizabeth A. Johnson, C.S.J., is distinguished Professor of Theology at Fordham University. She has received numerous awards, including the Louisville Grawemeyer Award in Religion for She Who Is (1993), the American Academy of Religion Award for Excellence in the Study of Religion for Friends of God and Prophets (1999), and the Book Award of the College Theology Society for Truly Our Sister (2004). She was also the recipient of the John Courtney Murray Award of the Catholic Theological Society of America, the Jerome Award of the Catholic Library Association, and the Monika K. Hellwig Award of the Association of Catholic Colleges and Universities.
Praise For Ask the Beasts…
"Throughout her acclaimed career as a theologian, Sr. Elizabeth Johnson has devoted much of her scholarship to contemplating God's relationship with human beings. [In] Ask the Beasts: Darwin and the God of Love, Johnson turns her gaze upon God's relationship with the nonhumans of the world." – Jamie Manson, National Catholic Reporter "Besides borrowing from other environmentally conscious religious thinkers, Johnson draws key insights from Darwin, whose The Origin of Species opens a vision of a planetwide community of life. As readers contemplate the human heedlessness that has pushed many species to (near) extinction, they will understand the urgency of Johnson's ecological appeal. The Catholic Bishops' censure of Johnson's Quest for the Living God may make the orthodox wary. But a writer who stirs controversy never lacks readers." – Bryce Christensen, Booklist "Engrossing and wonderfully realized, this is a book to be read and loved." – Publishers Weekly