Uggie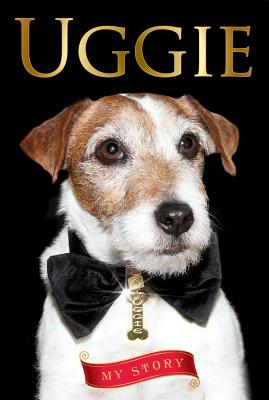 Uggie
My Story
Gallery Books, Hardcover, 9781476700168, 240pp.
Publication Date: October 16, 2012
* Individual store prices may vary.
Not Currently Available for Direct Purchase
or
Shop Local
Enter your zip code below to purchase from an indie close to you.
Description
A heartwarming memoir by the Jack Russell Terrier that starred in "The Artist" and "Water for Elephants."
Dear Reader:
Wow Bow wow It's been a wild ride--wilder even than learning to water-ski or skateboard. I'm so famous now that "The New York Times "plugged my autobiography. "Uggie will bark all in a memoir," it announced. Well, I've certainly had a lot to bark about lately.
Even before "The Artist "stunned us all by hitting the big time and winning five Oscars, inside I knew (as did my wonderful acting coach Omar) that I was an artist. I may have been merely a pound-bound hound when I joined Omar's troupe, and certain species-ist quarters have contended that I mindlessly do tricks for treats, but it's not true. I was milking a crowd as a young street performer when my canine companions and I were doing gigs for biscuit money. Yes, I've always been a bit of an attention-seeker, but aren't all great actors?
Expect some real treats. Perhaps not quite as tasty as pizza, but still lip-smackingly good. Not just the stories of how I got into showbiz or why I fell nose over paws in love with my divine Miss W (that's Reese Witherspoon to the rest of you), but also the dirty doggie truth about Cat-Gate. And, well, a few more youthful misdemeanors . . .such as Zebra-Gate and Cockatoo-Gate and the truly shameful Binge-Gate.
I'm fond of a good romp, and this candid canine tell-all zips along with revealing tales of celebrity encounters and how I cope with fame. Of course there's some sad stuff too, including the health problems that forced me into early retirement. I've given my all in this honest-to-dog Hollywood memoir, because that's what I always do. I hope you'll gobble up every word, just like I wolf down sausages.
"Love and licks, "
"Uggie.
About the Author
Uggie is the beloved Jack Russell Terrier best known for his roles in "The Artist" and "Water for Elephants".
Praise For Uggie…
"A rollicking romp of a read"

"Demonstrates the importance of a dog's presence in our lives, on an off screen. As he writes (or barks), quoting an unknown author, 'Dogs are miracles with paws.'"

"Perhaps the most famous pet memoir since presidential pooch Millie told her tale of life in the White House in 1992, Uggie's story, filled with plenty of name-dropping, details his rise from puppy-hood to movie stardom."

"My Story gives plenty of doggie dish"

"Uggie--My Story is a wonderful read filled with humor and heartfelt moments told by one of the industry's icons. If you love Uggie (and seriously, folks, who doesn't?), you have to read this book. The Uggster's personality comes through on every page and reaffirms that, even though he walks on four legs, he's one of the best talents there is in Tinsel Town. My Take: A definite must read."
-Caine Gardner

"Heavy on the laughs."

Uggie promises to bring his fans all the way back to his humble beginnings.