Devil's Bargain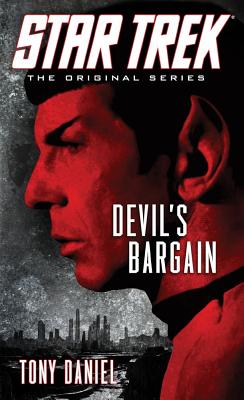 Devil's Bargain
Star Trek, Mass Market Paperbound, 9781476700472, 303pp.
Publication Date: February 26, 2013
* Individual store prices may vary.
Buy Now
or
Shop Local
Enter your zip code below to purchase from an indie close to you.
Description
Captain James T. Kirk and the crew of the "U.S.S. Enterprise "are sent to evacuate the Omega sector frontier colony Vesbius--a pioneer settlement that is on the brink of an extinction-level event threatening not only all of the colonists, but biological products that are vital to Starfleet. However, rescue efforts are being thwarted by the colonists themselves, who refuse to abandon Vesbius, claiming that their lives depend upon staying, while giving no reason "why." It is after these irrational decisions that First Officer Spock makes a radical suggestion: Perhaps an unexpected ally could aid the colony and help complete the mission. . . .
About the Author
Tony Daniel is the author of the novels Earthling and Warpath, along with the pioneering and well-received Metaplanetary, to which Superluminal is a sequel. Daniel heads up the New York City theater troupe Automatic Vaudeville, which produces independent films. He lives in Brooklyn, New York, with his wife and daughter.