Anonymous Sources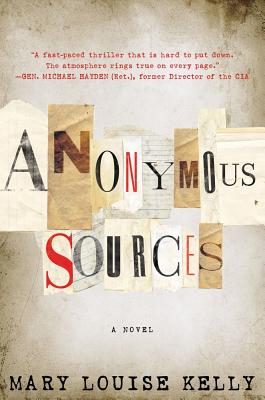 Anonymous Sources
Gallery Books, Hardcover, 9781476715544, 345pp.
Publication Date: June 18, 2013
* Individual store prices may vary.
Buy at Local Store
Enter your zip code below to purchase from an indie close to you.
or
Not Currently Available for Direct Purchase
Description
A fast-paced international thriller in the vein of Janet Evanovich by former NPR anchor and correspondent Mary Louise Kelly, about a Pakistani terrorist's nuclear threat to blow up the White House.
When Boston reporter Alexandra James is assigned to cover the death of Thom Carlyle, the son of a powerful Washington insider, she soon discovers the story is not as simple as it seems. The young man fell from the top of a Harvard bell tower, but did he jump or was he pushed?
Intent on escaping the demons of her past, Alex knows how to outwork, outdrink, and outshop anyone else around. Now she is focused on what could be the story of a lifetime chasing leads from Harvard Yard to the courtyards of Cambridge, England, from a clandestine rendezvous in London to the inside of a nuclear terrorist network. But when she goes to Washington, DC, for a key interview that promises to tie everything together, Alex the hunter becomes Alex the hunted. An assassin is dispatched her laptop disappears her phone is tapped and she begins to grasp that Thom Carlyle may have been killed to hide a terrifying conspiracy within the White House itself.
Former NPR Intelligence correspondent Mary Louise Kelly has turned her own real-life reporting adventures into fiction with this stylish spy thriller.
About the Author
Mary Louise Kelly has written two novels, "The Bullet "and "Anonymous Sources", and spent two decades traveling the world as a reporter for NPR and the BBC. Her assignments have taken her from grimy Belfast bars to the glittering ports of the Persian Gulf, and from mosques in Hamburg to the ruined deserts of Iraq. As an NPR correspondent covering the intelligence beat and the Pentagon, she reported on wars, terrorism, and rising nuclear powers. A Georgia native, Kelly was educated at Harvard and at Cambridge University in England. She lives in Washington, DC, and Florence, Italy, with her husband and their two children. Learn more at MaryLouiseKellyBooks.com.
Praise For Anonymous Sources…
"Kelly has mastered the mental geographies of the journalist,
the terrorist, and the spy:  The competing ideals, the gritty reality, and
the layers of wisdom or self-deception they employ in reconciling them. 
You won't put this down."
-Bob Grenier, former CIA Head of Counterterrorism and former CIA Station Chief in Pakistan

"Mary
Louise Kelly blends the worlds she knows so well--Harvard, Cambridge,
Washington, the news room and the American intelligence community--into a
fast paced thriller that is hard to put down.  The atmosphere rings
true on every page as she weaves a taut tale from a young man's apparent
suicide to a terrorist attempt at the highest seat of American power."
-Michael Hayden, former Director of the CIA

"In
Mary Louise Kelly's entertaining new novel, a smart, sexy reporter
wanders into the midst of a truly scary terrorist plot. In the manner of
an Alfred Hitchcock thriller, Kelly's heroine has to outfox the
conspirators to escape. This book is great fun, from beginning to end."

-David Ignatius, columnist for The Washington Post and author of Bloodmoney

"A great spy thriller..I couldn't put it down. The plot's great and the details are delicious."
-Joel Brenner, Former Inspector General of the National Security Agency and author of America the Vulnerable


"An
authentic view of the media, intelligence, and terrorism that is a real
page turner. Kelly gets how the national security world really works."

-Richard A. Clarke, former White House Counterterrorism Chief and author of The Scorpion's Gate

"One
of the most genuinely chilling plots I've ever read. A scenario that
will haunt anyone who's ever read a newspaper. I couldn't put this book
down."

-Allison Leotta, author of Speak of the Devil
Friday, Jun 21, 2013
As an NPR reporter, Mary Louise Kelly covered the CIA and the intelligence beat, traveling around the world and interviewing some of the world's foremost spies. Now, she's used that experience in a new career as a spy novelist. Her thriller, Anonymous Sources, has just been published. More at NPR.org