Star Trek Into Darkness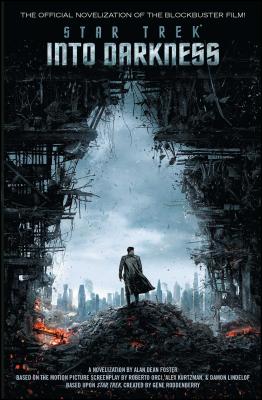 Star Trek Into Darkness
Star Trek, Paperback, 9781476716480, 320pp.
Publication Date: May 21, 2013
* Individual store prices may vary.
Buy at Local Store
Enter your zip code below to purchase from an indie close to you.
or
Buy Here
Description
The official movie tie-in novelization of the highly anticipated sequel to 2009's blockbuster feature film "Star Trek"
Months after the dramatic events seen in the 2009 blockbuster film Star Trek, the crew of the U.S.S. Enterprise including Captain James T. Kirk, First Officer Spock, Doctor Leonard McCoy, Lieutenant Nyota Uhura, Chief Engineer Montgomery Scott, Lieutenant Hikaru Sulu, and Ensign Pavel Chekov is called back home. But an unstoppable force of terror from within their own organization has declared all-out war on Starfleet and everything it stands for, leaving Earth in a state of crisis. Now with a personal score to settle as a result, Kirk must lead a covert manhunt to a war-zone world to capture a one-man weapon of mass destruction. As these valiant heroes are propelled into an epic chess game of life and death, love will be challenged, friendships will be torn apart, and sacrifices must be made for the only family Captain Kirk has left: his crew.
About the Author
ALAN DEAN FOSTER has written in a variety of genres, in-cluding hard science fiction, fantasy, horror, detective, western, historical, and contemporary fiction. He is the author of the New York Times bestseller Star Wars: The Approaching Storm, as well as novelizations of several films including Star Wars, the first three Alien films, and Alien Nation. His novel Cyber Way won the Southwest Book Award for Fiction in 1990, the first science fiction work ever to do so. Foster and his wife, JoAnn Oxley, live in Prescott, Arizona, in a house built of brick that was salvaged from an early-twentieth-century miners brothel.