The Star Trek Craft Book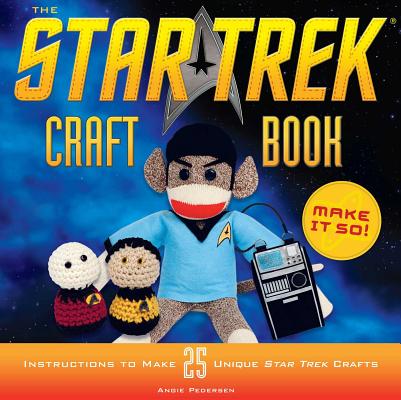 The Star Trek Craft Book
Make It So!
Star Trek, Paperback, 9781476718644, 176pp.
Publication Date: April 30, 2013
* Individual store prices may vary.
Not Currently Available for Direct Purchase
or
Shop Local
Enter your zip code below to purchase from an indie close to you.
Description
A collection of twenty-five fun and unique "Star Trek "inspired crafts from accessories to decor to toys ideal for enterprising crafters of every skill level.
Create 25 unique Star Trek inspired crafts with The Star Trek Craft Book Whether you re a Trekker in Training or a seasoned craft whiz, you ll find a project in these pages to pique your interest.These fun, quirky, and even practical crafts range from accessories to decor to toys. Boldly experiment with a variety of crafting projects, including crochet, sewing, embroidery, felting, and much more. Each project is ranked according to complexity and skill level from Ensign to Admiral and accompanied by easy to follow instructions and photos. Full of Star Trek facts and imagery, crafty tips, and fun, The Star Trek Craft Book is perfect for Star Trek fans and enterprising crafters alike.
About the Author
Doing it my way since 1979! As co-founders of His+Hers=OUR$, Derek and his wife Carrie have made it their mission to help others steward their time, talent, and gifts well. Derek is the author of the best-selling book The Four-Week Financial Turnaround, co-author of the Audio program It Takes a Village to Write a Book, and a speaker on the subject of stewardship, money management and marriage. Derek grew up in the Oklahoma City area and earned a B.S. degree in business management from Oklahoma State University. After graduation, Derek spent six years as a territorial sales manager in both the Oklahoma City and Kansas City markets. Derek's love for helping others with stewardship, personal finance, money management and marriage pours out through his ideas, products, and speaking programs. Happily married to Carrie since October of 2010, Derek calls Kansas City home. Derek's belief in the people he inspires can be wrapped up in one of his favorite encouraging sentences, "You can do it, and I would love to help." "Focus on what you do have and do want, not on what you don't have and don't want." -Derek