Impossible Odds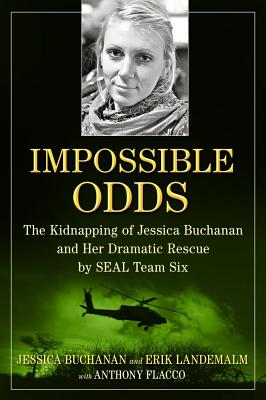 Impossible Odds
The Kidnapping of Jessica Buchanan and Her Dramatic Rescue by SEAL Team Six
Atria Books, Hardcover, 9781476725161, 310pp.
Publication Date: May 14, 2013
* Individual store prices may vary.
Buy at Local Store
Enter your zip code below to purchase from an indie close to you.
or
Not Currently Available for Direct Purchase
Description
A "New York Times" bestseller
In 2006, twenty-seven-year-old Jessica Buchanan stepped off a plane in Nairobi, Kenya, with a teaching degree and long-held dreams of helping to educate African children. By 2009, she had met and married a native Swede named Erik Landemalm, who worked to coordinate humanitarian aid with authorities in Africa. Together the two moved from Nairobi to Somalia, and with hopes of starting a family, their future couldn t have been brighter. . . .
But on October 25, 2011, Jessica and a colleague were kidnapped at gunpoint and held for ransom by a band of Somali pirates. For the next three months, Jessica was terrorized by more than two dozen gangsters, held outdoors in filthy conditions, and kept on a starvation diet while her health steadily deteriorated. Negotiations for ransom dragged on, and as the ordeal stretched into its third month, the captors grew increasingly impatient. Every terrifying moment Jessica Buchanan spent suffering in captivity was matched by that of her adoring husband working behind the scenes to deal with her captors. After ninety-three days of fruitless negotiations, and with Jessica's medical state becoming a life-or-death issue, President Barack Obama ordered Navy SEAL Team Six to attempt a rescue operation. On January 25, 2012, just before the president delivered his State of the Union speech, the team of twenty-four SEALs, under the cover of darkness, attacked the heavily armed hostiles. They killed all nine with no harm to the hostages, who were quickly airlifted out on a military rescue helicopter.
In riveting detail, this book chronicles Jessica and Erik's mutual journey during those torturous months. Together they relate the events prior to the kidnapping, the drama of Jessica's fight to stay alive, and Erik's efforts to bolster and support the hunt for her while he acted as liaison between their two families, the FBI, professional hostage negotiators, and the United States government. Both a testament to two people's courage and a nail-biting look at a life-or-death struggle, this is a harrowing and deeply personal story about their triumph over impossible odds.
About the Author
Jessica Buchanan worked in the humanitarian aid field in Somalia. She has recently relocated to the United States, where she and her husband, Erik Landemalm, lecture on their experiences while raising their son, August, born in October, 2012.

Erik Landemalm worked in the humanitarian aid field in Somalia. He has recently relocated to the United States, where he and his wife, Jessica Buchanan, lecture on their experiences while raising their son, August, born in October, 2012.

Anthony Flacco was born in Oklahoma and grew up in Colorado Springs, Colorado, one of four brothers. Their father was an Air Force pilot and mother was a talented artist and painter.

His background as a trained stage actor with over 2,000 performances under his Actors Equity membership provides the primary basis for his critically acclaimed ability to empathize with a wide cross-section of personalities. He moved into screenwriting when he was selected for the prestigious American Film Institute fellowship in Screenwriting. He received his MFA in screenwriting after winning AFI's Paramount Studios Fellowship Award and was then selected out of 2,000 entrants for the Walt Disney Studios Screenwriting Fellowship, where he spent a year writing for the Touchstone Pictures division. His screenwriting experience drives narrative stories that are visually compelling, whether for a movie theater or the screen of a reader's imagination.

He is an experienced public speaker and frequently gives seminars on crime writing, and is a featured speaker on writing for writers conferences and clubs and serves as Editorial Consultant to Martin Literary Management in Seattle, WA.

For more information, see www.AnthonyFlacco.com
Praise For Impossible Odds…
"The book is spellbinding. Fiction cannot come close to the reality of Impossible Odds. The story provides a compelling combination of horror and fascination, written with clarity and compassion."