The White Queen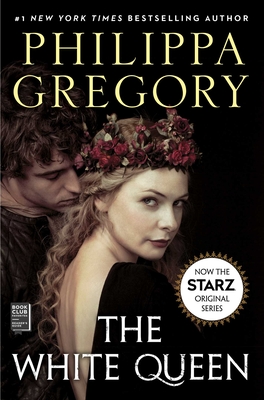 The White Queen
Touchstone Books, Paperback, 9781476735481, 464pp.
Publication Date: July 9, 2013
* Individual store prices may vary.
Buy at Local Store
Enter your zip code below to purchase from an indie close to you.
or
Buy Here
Description
The inspiration for the critically acclaimed Starz miniseries "The White Queen," #1 "New York Times" bestselling author Philippa Gregory brings to life the extraordinary story of Elizabeth Woodville, a woman who rises from obscurity to become Queen of England, and changes the course of history forever.
Elizabeth Woodville is a woman of extraordinary beauty and ambition. Her mother is Jacquetta, also known as the mystical lady of the rivers, and she is even more determined to bring power and wealth to the family line. While riding in the woods one day, Elizabeth captures the attentions of the newly crowned King Edward IV and, despite her common upbringing, marries him in secret.
When she is raised up to be his queen, the English court is outraged, but Elizabeth rises to the demands of her exalted position and fights for her family's dominance. Yet despite her best efforts, and even with the help of her mother's powers, her two sons become pawns in a famous unsolved mystery that has confounded historians for centuries: the lost princes in the Tower of London.
In this dazzling account of the deadly Wars of the Roses, brother turns on brother to win the ultimate prize: the throne of England.
About the Author
Philippa Gregory is the author of several bestselling novels, including "The Other Boleyn Girl", and is a recognized authority on women s history. Her Cousins War novels are the basis for the critically acclaimed Starz miniseries "The White Queen". She graduated from the University of Sussex and received a PhD from the University of Edinburgh, where she is a Regent. She holds an honorary degree from Teesside University, and is a fellow of the Universities of Sussex and Cardiff. She welcomes visitors to her website, PhilippaGregory.com.
Praise For The White Queen…
"Gregory returns with another sister act. The result: her best novel in years."

"Gregory delivers another vivid and satisfying novel of court intrigue, revenge, and superstition. Gregory's many fans as well as readers who enjoy lush, evocative writing, vividly drawn characters, and fascinating history told from a woman's point of view will love her latest work."

"Gregory is one of historical fiction's superstars, and The Kingmaker's Daughter shows why . . . providing intelligent escape, a trip through time to a dangerous past."

"Wielding magic again in her latest War of the Roses novel … Gregory demonstrates the passion and skill that has made her the queen of English historical fiction.…Gregory portrays spirited women at odds with powerful men, endowing distant historical events with drama, and figures long dead or invented with real-life flaws and grand emotions. She makes history … come alive for readers."

"Gregory returns with another sister act. The result: her best novel in years."

"Gregory delivers another vivid and satisfying novel of court intrigue, revenge, and superstition. Gregory's many fans as well as readers who enjoy lush, evocative writing, vividly drawn characters, and fascinating history told from a woman's point of view will love her latest work."

"Gregory is one of historical fiction's superstars, and The Kingmaker's Daughter shows why . . . providing intelligent escape, a trip through time to a dangerous past."

"Wielding magic again in her latest War of the Roses novel … Gregory demonstrates the passion and skill that has made her the queen of English historical fiction.…Gregory portrays spirited women at odds with powerful men, endowing distant historical events with drama, and figures long dead or invented with real-life flaws and grand emotions. She makes history … come alive for readers."