Night & Demons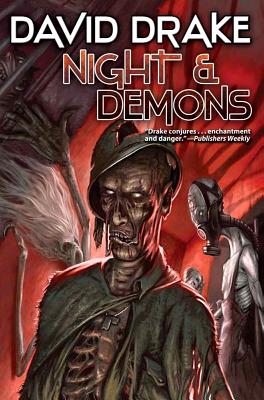 Night & Demons
Baen Books, Mass Market Paperbound, 9781476736181, 768pp.
Publication Date: November 26, 2013
* Individual store prices may vary.
Buy Now
or
Shop Local
Enter your zip code below to purchase from an indie close to you.
Description
A collection of horrific, weird, and fantastic tales by a master storyteller and creator of best-selling military science fiction series including Hammer's Slammers. Introductions on each story provide detailed snapshots of the larger-than-life editors, publishers, and writers with whom Drake has worked throughout his career.
Here are weird stories set in the present, along with alternative histories filled with gritty realism and exacting detail as well as an assortment of horrors and monsters. Most of all, here are the tough heroes who throughout time master their own fears and face the very real terrors that haunt existence. Sometimes these heroes win a partial victory. Sometimes it's enough to go down fighting.
Before Drake was a best-selling author of military science fiction, he was a prolific writer of horror and fantasy short fiction. "Denkirch," Drake's first sale, is here, and well as many stories set in the worlds of his fantasy novels ("Ranks of Bronze, Lord of the Isles, " and others).
More than just a collection of stories, "Night & Demons" features extensive story notes that chronicle the development of one of science fiction's most popular writers, and provide detailed snapshots of the larger-than-life editors, publishers, and writers with whom Drake has worked throughout his career.
About David Drake:
" T]he way Drake takes a tried formula and turns it on its ear is what makes him one of the modern masters of SF." -"Otherwhere Gazette"
" P]rose as cold and hard's the metal alloy of a tank ... rivals Crane and Remarque ..." - "Chicago Sun-Times"
"Drake couldn't write a bad action scene at gunpoint." - "Booklist"
About David Drake's RCN series:
" R]ousing old-fashioned space opera." -- "Publishers Weekly "on the "RCN" series.
"The fun is in the telling, and Mr. Drake has a strong voice. I want more " -"Philadelphia Weekly Press"
" S]pace opera is alive and well. This series is getting better as the author goes along...character development combined with first-rate action and memorable world designs." -"SFReader.com.
About the Author
David Drake (born 1945) sold his first story (a fantasy) at age 20. His undergraduate majors at the University of Iowa were history (with honors) and Latin (BA, 1967). He uses his training in both subjects extensively in his fiction.
David entered Duke Law School in 1967 and graduated five years later (JD, 1972). The delay was caused by his being drafted into the US Army. He served in 1970 as an enlisted interrogator with the 11th Armored Cavalry Regiment, the Blackhorse, in Viet Nam and Cambodia. He has used his legal and particularly his military experiences extensively in his fiction also.
David practiced law for eight years; drove a city bus for one year; and has been a full-time freelance writer since 1981, writing such novels as" Out of the Waters" and "Monsters of the Earth". He reads and travels extensively.