The Heretic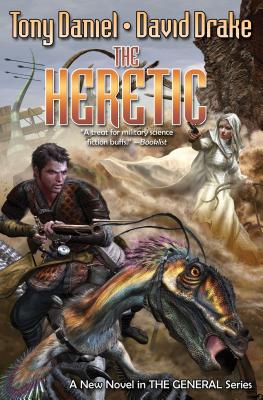 The Heretic
Baen Books, Mass Market Paperbound, 9781476736372, 435pp.
Publication Date: March 25, 2014
* Individual store prices may vary.
Buy at Local Store
Enter your zip code below to purchase from an indie close to you.
or
Buy Here
Description
David Drake's legendary Raj Whitehall/The Generalseries, returns In a world of muskets, bows and arrows, and reptile-riding nomads, ayoung warrior fights against an all-controlling computer devoted to stasis.
ABEL DASHIAN'S WORLD DOESN'T NEED A HERO
Duisberg is one of thousands of planets plunged into darkness and chaos by the collapse of the galactic republic, but where other worlds have begun to rebuild a star-travelling culture, Duisberg remains in an uneasy balance between mud-brick civilization and bloodthirsty barbarism.
The people of Duisberg have a god: Zentrum, a supercomputer from the ancient past. Zentrum has decided to avoid another collapse by preventing civilization from rising from where it is. And because even a supercomputer and the powerful religion which it founded cannot block all progress, Zentrum has another tool: every few centuries the barbarians sweep in from the desert, slaughtering the educated classes and cowing the peasants back into submission. These are the Blood Winds, and the Blood Winds are about to blow again.
This time, however, there's a difference: Abel Dashian, son of a military officer, has received into his mind the spirit of Raj Whitehall, the most successful general in the history of the planet Bellevue--and of Center, the supercomputer which enabled Raj to shatter his planet's barbarians and permit the return of civilization.
One hero can't stop the tide of barbarians unless he has his own culture supporting him. To save Duisberg, Abel must break the power of Zentrum.
With the help of Raj and Center, Abel Dashian must become . . . THE HERETIC
About "The Heretic:
" More than once, I envied Abel's 'gift.' If you count having the voice of a computer and the recreation of a famous general in your head as a gift. . .An interesting relationship that elevates the novel] to something unique. . .I loved the battles and I found Abel to be an engaging character. I adored Golitsin, his priest friend. "SF Crowsnest"
About the Raj Whitehall series:
T]old with knowledge of military tactics and hardware, and vividly described action. . .devotees of military SF should enjoy themselves. "Publishers Weekly"
A] thoroughly engrossing military sf series . . . superb battle scenes, ingenious weaponry and tactics, homages to Kipling, and many other goodies. High fun. "Booklist"
""About David Drake:
P]rose as cold and hard's the metal alloy of a tank rivals Crane and Remarque "Chicago Sun-Times"
Drake couldn t write a bad action scene at gunpoint. "Booklist"
""About Tony Daniel:
D]azzling stuff. "New York Times Book Review
"
His work] teems with vivid characters and surprising action. " Publishers Weekly (starred review)
"
Daniel proves that the Golden Age of science fiction is right here and now. Greg Bear"
"
A] large cast of utterly graspable humans, mostly military and political folks, of all ranks and capacities and temperments. Daniel has a keen eye for the kinds of in extremis thinking and behavior that such a wartime situation would engender. . . .Following in the footsteps of Poul Anderson and Greg Bear. . . "Asimov's Science Fiction Magazine "on Daniel's "Guardian of Night
"The General Series
"The Forge
"S. M. Stirling
David Drake
"The Hammer
" S. M. Stirling
David Drake
"The Anvil
" S. M. Stirling
David Drake
"The Steel
" S. M. Stirling
David Drake
"The Sword
" S. M. Stirling
David Drake
"The Chosen
" S. M. Stirling
David Drake
"The Reformer
" S. M. Stirling
David Drake
"The Tyrant
" Eric Flint
David Drake
"The Heretic
"Tony Daniel
David Drake
"The Savior
"Tony Daniel
David Drake
Omnibus Editions
"Warlord
" David Drake
S. M. Stirling
Contains "The Forge "and "The Hammer
"
"Conqueror
"David Drake
S. M. Stirling
Contains "The Anvil "and "The Steel
""Hope Reborn
"David Drake
S. M. Stirling
Contains "The Forge "and "The Hammer
"
"Hope Rearmed
"David Drake
S. M. Stirling
Contains "The Anvil "and "The Steel.
About the Author
Tony Daniel is the author of the novels Earthling and Warpath, along with the pioneering and well-received Metaplanetary, to which Superluminal is a sequel. Daniel heads up the New York City theater troupe Automatic Vaudeville, which produces independent films. He lives in Brooklyn, New York, with his wife and daughter.
David Drake (born 1945) sold his first story (a fantasy) at age 20. His undergraduate majors at the University of Iowa were history (with honors) and Latin (BA, 1967). He uses his training in both subjects extensively in his fiction.
David entered Duke Law School in 1967 and graduated five years later (JD, 1972). The delay was caused by his being drafted into the US Army. He served in 1970 as an enlisted interrogator with the 11th Armored Cavalry Regiment, the Blackhorse, in Viet Nam and Cambodia. He has used his legal and particularly his military experiences extensively in his fiction also.
David practiced law for eight years; drove a city bus for one year; and has been a full-time freelance writer since 1981, writing such novels as" Out of the Waters" and "Monsters of the Earth". He reads and travels extensively.