The Imperfect Marriage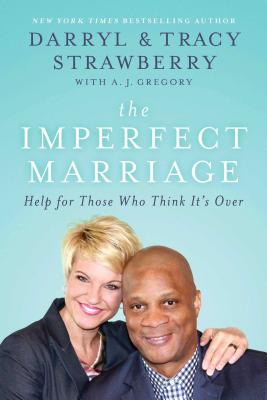 The Imperfect Marriage
Help for Those Who Think It's Over
Howard Books, Hardcover, 9781476738741, 230pp.
Publication Date: August 5, 2014
* Individual store prices may vary.
Not Currently Available for Direct Purchase
or
Shop Local
Enter your zip code below to purchase from an indie close to you.
Description
A marriage guidebook for the not-so-perfect marriage--filled with extremely candid, practical, and biblically based principles--proven to make any relationship successful.
Darryl and Tracy Strawberry admit they have "made every possible mistake you can make in marriage." Together, this devoted couple has suffered through--and survived--adultery, addiction, financial destruction, and many other all-too-familiar struggles.
A no-holds-barred account of their personal journey, "The Imperfect Marriage "provides a step-by-step program that will help you and your partner understand the key issues that could be causing damage in your relationship and recognize turning points on the journey toward marriage restoration. Darryl and Tracy Strawberry know firsthand what it takes to make it through the battle and how to come out victorious. Beginning with putting God at the center, their words will inspire you to transform your marriage into an enduring and vital relationship.
The Strawberrys keep it real and preach it real. They deal with real people, real problems, and offer solutions for the present. Through candid anecdotes, a great deal of self-awareness, and a true sense of honesty, Darryl and Tracy offer the vision, encouragement, and practical advice that every healthy marriage needs in order to thrive.
Whether you and your partner are looking to heal a broken relationship, or avoid the mistakes that doomed a past one, "The Imperfect Marriage" offers the guidance and wisdom you need to make your marriage a success.
About the Author
Darryl Strawberry was born in Crenshaw, California. An eight-time All-Star, a four-time World Series Champion, and a National League Rookie of the Year, he played for the Mets, Dodgers, Giants, and Yankees during his headlining career. In 2008, Strawberry began serving as a special ambassador for the Mets. He is the father of five and lives in Missouri with his wife, Tracy.

Tracy Strawberry has a true passion to equip individuals to live out a life of freedom and purpose in Christ. Tracy is an ordained minister and her powerful but practical systematic teachings outline the steps of how a person can achieve change and live a victorious life through the power of God and actively engaging in the process of change.

A. J. Gregory is the author of" Messy Faith" and "Silent Savior", which chronicles finding faith in the middle of unavoidable and sometimes harsh realities. She also partners with celebrities, military leaders, life coaches, pastors, physicians, and professors to help them write their own stories. An accomplished writer, A. J. has collaborated with fascinating high-profile figures on over twenty-five books.