The Truth in Small Doses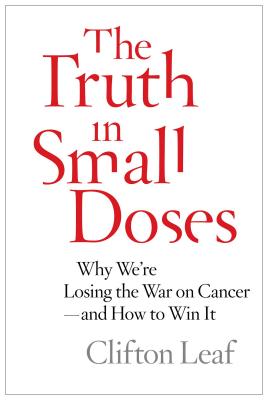 The Truth in Small Doses
Why We're Losing the War on Cancer - And How to Win It
Simon & Schuster, Hardcover, 9781476739984, 499pp.
Publication Date: July 16, 2013
* Individual store prices may vary.
Buy at Local Store
Enter your zip code below to purchase from an indie close to you.
or
Not Currently Available for Direct Purchase
Description
In a provocative, eye-opening, and ultimately inspiring history of the war on cancer, a celebrated expert asks why we are losing the battle and how to find victory.
A provocative, eye-opening history of the war on cancer, "The Truth in Small Doses" asks why we are losing this essential fight and charts a path forward.
OVER THE PAST HALF CENTURY, deaths from heart disease, stroke, and so many other killers have fallen dramatically. But cancer continues to kill with abandon. In 2013, despite a four-decade war against the disease that has cost hundreds of billions of dollars, more than 1.6 million Americans will be diagnosed with cancer and nearly six hundred thousand will die from it.
A decade ago, Clifton Leaf, a celebrated journalist and a cancer survivor himself, began to investigate why we had made such limited progress fighting this terrifying disease. The result is a gripping narrative that reveals why the public's immense investment in research has been badly misspent, why scientists seldom collaborate and share their data, why new drugs are so expensive yet routinely fail, and why our best hope for progress brilliant young scientists are now abandoning the search for a cure. "The Truth in Small Doses" is that rare tale that will both outrage readers and inspire conversation and change.
About the Author
Clifton Leaf is a guest editor for The New York Times" op-ed page and Sunday Review. Previously, he was executive editor at both The Wall Street Journal's" SmartMoney" magazine and Fortune". A winner of the Gerald Loeb Award for Distinguished Business and Financial Journalism and a two-time finalist for the National Magazine Award, Cliff has received several leadership honors for his efforts in the cancer fight. He lives in Brooklyn with his wife and daughter.