Founders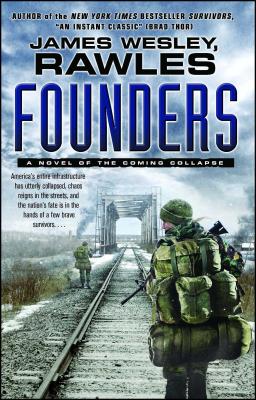 Founders
A Novel of the Coming Collapse
Pocket Books, Paperback, 9781476740089, 302pp.
Publication Date: July 30, 2013
* Individual store prices may vary.
Buy at Local Store
Enter your zip code below to purchase from an indie close to you.
or
Buy Here
Description
From the author of the instant "New York Times" bestseller "Survivors," comes its follow-up: another lightening-paced thriller about survival in America after an apocalyptic socioeconomic crash.
The world as we know it is gone.
It's the near future, and thanks to a perfect storm of reckless banking practices, hyperinflation, a stock market gone mad, and the negligence of our elected officials, the entire social, political, and economic infrastructure of America has collapsed. Chaos reigns in the streets, medical treatment is no longer available, and a silent coup has placed a dangerous group of men at the helm of a false government. America's fate is in the hands of those few individuals who have the survival skills, the faith, and the forethought to return this country to the state its founding fathers intended.
About the Author
James Wesley, Rawles has been an enthusiastic survivalist since his teenage years. He is now a survivalist author and lecturer and the editor of www.SurvivalBlog.com. He has a Bachelor of Arts degree from San Jose State University with minor degrees in military science, history, and military history. A former U.S. Army intelligence officer who held a Top Secret security clearance (with Special Background Investigation) and access to Sensitive Compartmented Information (SCI), he was awarded Officer specialty 35A (tactical all-source intelligence officer), and the additional skill identifier 5M (electronic warfare officer). He achieved the rank of Captain, attended the Army NBC defense officer's course, as well as Northern Warfare School at Fort Greeley, Alaska.