Suenos Sencillos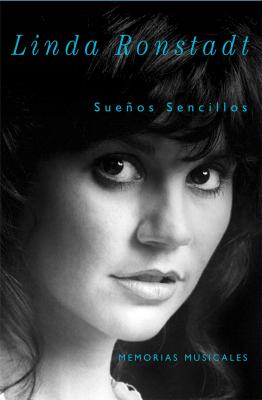 Suenos Sencillos
Memorias Musicales = Simple Dreams
Simon & Schuster, Paperback, 9781476740898, 256pp.
Publication Date: September 17, 2013
* Individual store prices may vary.
Buy Now
or
Shop Local
Enter your zip code below to purchase from an indie close to you.
Description
En esta memoria, la cantante icónica Linda Ronstadt entreteje una historia cautivante de sus orígenes en Tucson, Arizona, y su ascenso a la fama en la escena musical del sur de California en los años 60 y 70.
Nacida en una familia de músicos, la infancia de Linda estuvo llena de todo, desde Hank Williams hasta Gilbert y Sullivan, la música popular mexicana, el jazz y ópera. Su curiosidad artística floreció temprano, y ella y sus hermanos comenzaron a tocar su propia música a cualquiera que quisiera escucharlos. Ahora, doce premios Grammy después, Ronstadt cuenta la historia de su amplio viaje musical y completamente único.

Ronstadt llegó a Los Angeles mientras que el movimiento folk-rock estaba empezando a florecer, preparando el escenario para el desarrollo del country-rock. Después de la disolución de su primera banda, los Stone Poneys, Linda siguió por su cuenta y rápidamente encontró el éxito. Como parte del círculo de artistas afines que tocaron en el club Troubadour en West Hollywood, ella ayudó a definir el estilo musical que dominó la música estadounidense en la década de 1970. Una de sus primeras bandas de acompañamiento sería más tarde los Eagles, y Linda se convertiría en la artista femenina más exitosa de la década. Ella ha vendido más de 100 millones de discos, ha ganado numerosos premios y ha dado giras por todo el mundo. Linda ha colaborado con leyendas como Emmylou Harris, Dolly Parton, Aaron Neville, Neil Young, Bette Midler, y Frank Sinatra, así como con Homero Simpson y la Rana Kermit. Cuando se retiró en 2009, Ronstadt llevaba cuatro décadas como una de las cantantes más populares del mundo, convirtiéndose en la primera artista femenina en la música popular en sacar cuatro álbumes de platino consecutivos.

En Sueños sencillos, Ronstadt revela el viaje ecléctico y fascinante que condujo a su prolongado éxito. Y ella lo describe todo con una voz tan hermosa como la que cantó "Heart Like a Wheel": nostálgica, elegante y auténtica.
About the Author
Linda Ronstadt has received twelve Grammy Awards, two Academy of Country Music Awards, and one Emmy Award, as well as several Tony and Golden Globe nominations. She lives in San Francisco with her family.