The Forks Over Knives Plan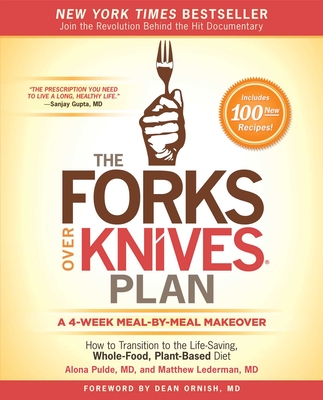 The Forks Over Knives Plan
How to Transition to the Life-Saving, Whole-Food, Plant-Based Diet
Touchstone Books, Hardcover, 9781476753294, 336pp.
Publication Date: September 16, 2014
* Individual store prices may vary.
Buy at Local Store
Enter your zip code below to purchase from an indie close to you.
or
Buy Here
Description
The latest in the bestselling "Forks Over Knives" franchise a 28-day guide to transitioning to a delicious whole-foods, plant-based diet.
The trailblazing film "Forks Over Knives" helped spark a medical and nutritional revolution. Backed by scientific research, the film's doctors and expert researchers made a radical but convincing case that modern diseases can be prevented and often reversed by leaving meat, dairy, and highly refined foods off the plate, and adopting a whole-food, plant-based diet instead and people listened.
Now, for the first time, "The Forks Over Knives Plan" shows you how to put this life-saving (and delicious) diet into practice in your own life. This easy-to-follow, meal-by-meal makeover is the approach Doctors Alona Pulde and Matthew Lederman (featured in the documentary) use every day in their nutritional health practice a clear, simple plan that focuses on hearty comfort foods and does not involve portion control or worrying about obtaining single nutrients like protein and calcium.
Week 1 you ll begin with breakfast and learn how to stock your refrigerator to help support this new way of eating.
Week 2 you ll move on to lunch and learn the basics of meal planning to keep yourself on track.
Week 3 you ll reimagine dinner and find out how to combat cravings.
Week 4 you ll master all the tricks and tips you ll need for the long haul, including how to eat on the go and how to snack healthily.
You ll also get 100 simple, tasty recipes to keep you on the right track, beautiful photographs, and advice throughout the book from people just like you. Find out why physicians, athletes, fitness professionals, and others all over the world are overhauling what they eat and feeling better than even before. Whether you re already a convert and just want a dietary reboot, or you re trying a plant-based diet for the first time, "The Forks Over Knives Plan" makes it easier than ever to transition to this healthiest way of eating and to maintain it for life.
About the Author
Matthew Lederman, MD, a board-certified Internal Medicine physician, received his Bachelor of Science degree in Biology at the University of Michigan where he graduated with distinction. He received his Doctor of Medicine degree at Temple University School of Medicine and completed his residency in Internal Medicine at the University of Colorado Health Sciences Center. Most recently Dr. Lederman lectured for Cornell's Certificate Program in Plant-Based Nutrition, created by T. Colin Campbell, author of "The China Study".

Alona Pulde, MD, is a family practitioner specializing in nutritional and lifestyle medicine in Los Angeles. Alona developed the lifestyle change program used for patients in the film "Forks Over Knives", as well as in her clinic, Transition to Health: Medical, Nutrition, and Wellness Center. She is the author of "Keep It Simple, Keep It Whole: Your Guide to Optimum Health "and "The Forks Over Knives Plan".