The Color of Grace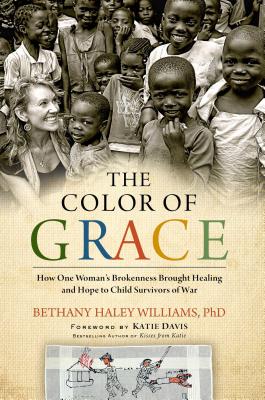 The Color of Grace
How One Woman's Brokenness Brought Healing and Hope to Child Survivors of War
Howard Books, Hardcover, 9781476766256, 352pp.
Publication Date: March 3, 2015
* Individual store prices may vary.
Buy Now
or
Shop Local
Enter your zip code below to purchase from an indie close to you.
Description
A middle-class woman in rural America and war-affected children in Africa find common ground in their journeys from brokenness to redemption.
Author and psychologist Bethany Haley Williams shares how her own emotional healing led her into treacherous war zones, where she provides care to former child soldiers and young girls used as sex slaves.
Faced with her own battle with shame and a rocky journey toward healing, Bethany founded Exile International, a nonprofit that implements art/expressive therapy and long-term, rehabilitative care to restore and empower war-affected children including children rescued from Joseph Kony's LRA (Lord's Resistance Army).
One of those rescued young men, Solomon, was abducted at the age of ten after being forced to watch LRA soldiers maim and murder his father and grandfather. His younger siblings were left behind, and his mother was instructed to raise them well for one day we ll return to take them too. Solomon is one of hundreds of thousands of boys and girls who have had their innocence stolen and are forced to do the unthinkable on a daily basis. But their horrific experiences are just the beginning. The real story is what happens "after."
Once these children learn to face their pasts, they are given hope for a future and a vision for changing the fabric of their countries by becoming leaders for peace and advocates of the power of forgiveness.
About the Author
Bethany Haley Williams is the founder and executive director of Exile International, an organization that exists to restore Africa s former child soldiers and children orphaned by war. With a PhD in counseling psychology, a master s in clinical social work, she is a leader in the specialized field of war-affected child rehabilitation with worldwide organizations such as the United Nations and the Global Trauma Recovery Institute. With more than twenty years of experience in the field, Bethany maintains a small counseling and coaching practice in Nashville, Tennessee. She and her husband, Matthew, reside in Nashville, Tennessee, and lead the work of Exile International together. To learn more, visit ExileInternational.org, BethanyHaleyWilliams.com, or ColorofGraceBook.com.

Katie J. Davis left home at the age of eighteen for a short missions trip to Uganda. From that experience grew an overwhelming desire to do something more personal, and today she lives in Uganda, where she is the adoptive mother of fourteen little girls. Katie is originally from Nashville, Tennessee, where her parents and brother live.