The Hedge Knight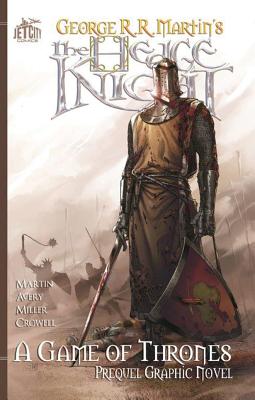 The Hedge Knight
A Game of Thrones Prequel Graphic Novel
Jet City Comics, Paperback, 9781477849101, 168pp.
Publication Date: November 5, 2013
* Individual store prices may vary.
Buy Now
or
Shop Local
Enter your zip code below to purchase from an indie close to you.
Description
Set one hundred years before the events in George R.R. Martin's epic fantasy series, "A Song of Ice and Fire," "The Hedge Knight" graphic novel chronicles a young squire as he travels the cruel and complex path to knighthood in the Seven Kingdoms. Shouldering his fallen master's sword and shield, Duncan (or "Dunk") is determined to reinvent himself as a knight in a nearby tournament. But first Dunk needs a sponsor, and that requirement sends him down a road studded with friends, foes, adventure, and hidden agendas. One such friend is Egg, who becomes Dunk's squire, yet even he may hold secret motivations of his own.
About the Author
George R.R. Martin has been a full-time writer for over 25 years. He is the author of the acclaimed, internationally bestselling fantasy series "A Song of Ice and Fire", which is the basis of HBO's popular "Game of Thrones "television series. Martin has won multiple science fiction awards, including 4 Hugos, 2 Nebulas, the Bram Stoker, the Locus Award, the World Fantasy Award, the Daedelus, the Balrog, and the Daikon (Japanese Hugo).

Mike S. Miller is a New York Times best selling illustrator whose career has spanned 23 years primarily in comics and video games. After a decade working for Marvel and DC on top titles such as X-Man, Wolverine, Adventures of Superman and JLA among others, Mike took a turn toward the independent, assuming the role of art director at start-up publisher, DBPro, and helmed titles such as George R.R. Martin s prequel to A GAME OF THRONES: The Hedge Knight and The Sworn Sword as well as Robert Jordan s WHEEL OF TIME prequel: New Spring, among others. In 2004, after developing several of his own properties, Mike joined with magazine publisher Brett Burner and formed Alias Comics; later optioning one of his titles, Deal with the Devil to Lionsgate films. Mike returned to mainstream comics working regularly for DC comics on the popular DC UNIVERSE ONLINE: LEGENDS series, BATMAN: ARKHAM digital comics, and is the regular cover artist for Dynamite/Del Rey s GEORGE R. R. MARTIN s A GAME OF THRONES comic book adaptation, as well as being a regular ZENESCOPE cover artist. Mike is currently also a main interior artist on the #1 digital comic in the world: INJUSTICE GODS AMONG US and is working diligently on the third installment of The Hedge Knight series, THE MYSTERY KNIGHT for Random House Publishing.

Ben Avery is a high school teacher, a playwright, comic book writer, and active children's ministry worker. His work is designed to captivate readers and lead them to a closer relationship with Christ. He is the author of Kingdoms: A Biblical Epic and TimeFlyz.