Loving Andrew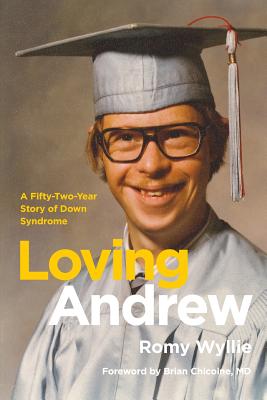 Loving Andrew
A Fifty-Two-Year Story of Down Syndrome
Createspace, Paperback, 9781478298342, 308pp.
Publication Date: October 26, 2012
* Individual store prices may vary.
Buy at Local Store
Enter your zip code below to purchase from an indie close to you.
or
Buy Here
Description
A mother recounts how the birth of Andrew with Down syndrome and the loss to cancer of a second baby start a family's journey through the maze of parenthood. With the support of a loving father, mother, and two younger siblings, Andrew mastered the skills of life and became a contributing member of society. In spite of coping with schizophrenia in his later years, Andrew remained active, happy, and full of love until Alzheimer's stole his memory and brought his life to a close at the age of 52.
About the Author
ROMY WYLLIE has an MA in English and History from the University of St. Andrews, Scotland (1955), a diploma in business and secretarial practices from St. Godric's College in London (1956); and a diploma in interior design from the Harrington Institute of Interior Design in Chicago (1974). Romy started writing in her mid-sixties after a devastating wildfire destroyed fifty percent of the houses in her neighborhood. Realizing that all the materials she had been saving to recount the story of bringing up a child with Down syndrome would have been destroyed if her house had burned, she took a college writing class and started her first book. Although that book has taken eighteen years to reach publication, Wyllie wrote two books on architecture: Caltech's Architectural Heritage: From Spanish Tile to Modern Stone published in 2000 by Balcony Press of Los Angeles; and Bertram Goodhue: His Life and Residential Architecture published in 2007 by W. W. Norton of New York and London. Excerpts from her book on Down syndrome have been published as opinion pieces in national newspapers. Romy lives with her husband Peter, a professor emeritus of Geology, in Pasadena, California. www.romywyllie.com
Praise For Loving Andrew…
"In Loving Andrew, Romy Wyllie has written a moving, unflinching disability memoir that tells a story most disability memoirs don't or can't touch. This is not a book about a cute, charming kid with Down syndrome; it's about a cute, charming kid with Down syndrome who grows up to become an independent adult with multiple challenges. It's also about what family, love, and independence can mean – for all of us. Loving Andrew tells a story that needs to be told, a story that needs to be heard."- Michael Berube, Director, Institute for the Arts and Humanities, The Pennsylvania State University







Once you Loving Andrew, you'll have a hard time putting it down. Wyllie deftly combines her inspiring personal story of raising Andrew, her first born son who is Down Syndrome, with information about how society has progressed in the treatment and acceptance of handicapped people. This is a book for everyone. – Fran Yariv, author of Last Exit and Safe Haven



This clear-eyed, intelligent memoir is an invaluable resource for anyone whose life is affected by a developmental disability. — Kirkus Review