The Savage Lands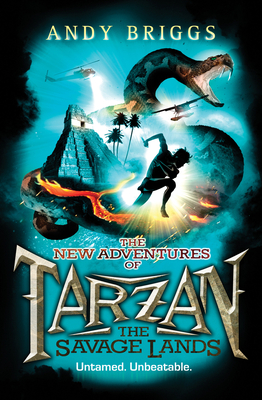 The Savage Lands
Open Road Media E-Riginal, Paperback, 9781480400146, 202pp.
Publication Date: October 8, 2013
* Individual store prices may vary.
Buy Now
or
Shop Local
Enter your zip code below to purchase from an indie close to you.
Description
The treacherous Lord Greystoke arrives at the logger scamp in the Congo, and will stop at nothing to find and assassinate his long-lost cousin, Tarzan. Robbie and Jane set out through the jungle to warn Tarzan, and find themselves trapped in the sprawling ancient city of Opar, where the insane Queen La rules an army of man-eating apes. With a volcano threatening to explode, Tarzan, Robbie, and Jane must form an unlikely alliance to save themselves. Not everyone will make it out alive.
About the Author
Andy Briggs is a screenwriter, graphic novelist, and author. He has written for movie projects such as "Judge" "Dredd", "Freddy" "vs". "Jason", and "Aquaman". He also collaborated with "Spider-Man" creator Stan Lee and legendary producer Robert Evans on the screenplay for "Foreverman". Briggs struck an eight-book deal with Oxford University Press for two series: Hero.com and Villain.net. His graphic novels include "Kong: King of Skull Island", "Ritual", and "Dinocorps". He has recently rebooted the classic character Tarzan with his novels "Tarzan: The Greystoke Legacy "and "Tarzan: The Jungle Warrior".Edgar Rice Burroughs (September 1, 1875 March 19, 1950) was an American author best known for creating the jungle hero Tarzan and the Mars adventurer John Carter. Tarzan first appeared in the story "Tarzan of the Apes", published in the pulp classic "All-Story Magazine" in October 1912. The character returned in twenty-five sequels by Burroughs, a handful of authorized works, and innumerable works in other media. One of the world s best-known literary characters, Tarzan has been portrayed in more than eighty movies and television shows, by more than twenty-seven actors. The first film, "Tarzan of the Apes "(1918), was one of the first movies to earn one million dollars.