Marching to Zion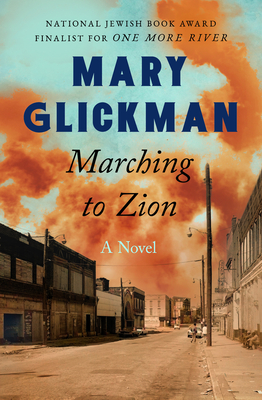 Marching to Zion
Open Road Media E-Riginal, Paperback, 9781480435629, 247pp.
Publication Date: November 12, 2013
* Individual store prices may vary.
Buy at Local Store
Enter your zip code below to purchase from an indie close to you.
or
Buy Here
Description
The tempestuous, tragic love story of a beautiful Jewish immigrant and a charismatic black man during the early twentieth century
Mags Preacher, a young black woman with a dream, arrives in St. Louis from the piney woods of her family home in 1916, hoping to learn the beauty trade. She knows nothing about Jews except that they killed the Lord Jesus Christ. Then she begins working for Mr. Fishbein, an Eastern European emigre who fled the pogroms that shattered his life to become the proprietor of Fishbein's Funeral Home. By the time he saves Mags from certain death during the 1917 race riots in East St. Louis, all her perceptions have changed. But Mr. Fishbein's daughter, the troubled redheaded beauty Minerva, is a different matter. There is something wrong with the girl, something dangerous, something fateful. And it is Magnus Bailey, Mags's first friend in the city, who learns to what heights and depths the girl's willful spirit can drive a man."""Marching to Zion" is the tragic story of Minerva Fishbein and Magnus Bailey, a charismatic black man and the longtime business partner of Minerva's father. From the brutal riots of East St. Louis to Memphis, Tennessee, during the 1920s and the Depression, " Marching to Zion" is a tale of passion, betrayal, and redemption during an era in America when interracial love could not go unpunished. Readers of Mary Glickman's "One More River" will celebrate the return of Aurora Mae Stanton, who joins a cast of vibrant new characters in this tense and compelling Southern-Jewish novel that examines the price of love and the interventions of fate.
About the Author
Born on the south shore of Boston, Mary Glickman studied at the Universite de Lyon and Boston University. While she was raised in a strict Irish-Polish Catholic family, from an early age Glickman felt an affinity toward Judaism and converted to the faith when she married. After living in Boston for twenty years, she and her husband traveled to South Carolina and discovered a love for all things Southern. Glickman now lives in Seabrook Island, South Carolina, with her husband, cat, and until recently, her beloved horse, King of Harts, of blessed memory. "Marching to Zion "is her third novel. Her first novel, "Home in the Morning", has been optioned for film by Jim Kohlberg, director of "The Music Never Stopped" (Sundance 2011), and her second, "One More River", was a 2011 National Jewish Book Award Finalist in Fiction.