Dinosaur Boy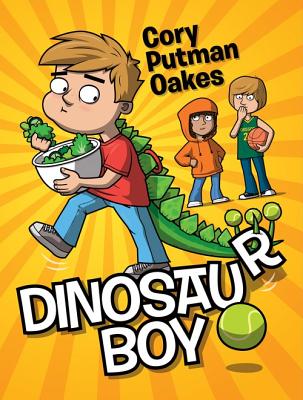 Dinosaur Boy
Sourcebooks Jabberwocky, Hardcover, 9781492605379, 224pp.
Publication Date: February 3, 2015
* Individual store prices may vary.
Buy at Local Store
Enter your zip code below to purchase from an indie close to you.
or
Buy Here
Description
Everyone knows the dinosaur gene skips a generation.
So it isn't a complete surprise when Sawyer sprouts spikes and a tail before the start of fifth grade. After all, his grandfather was part stegosaurus.
Despite the Principal's Zero Tolerance Policy, Sawyer becomes a bully magnet, befriended only by Elliot aka "Gigantor" and the weird new girl. When the bullies start disappearing, Sawyer is relieved-until he discovers a secret about the principal that's more shocking than Dino DNA. The bullies are in for a galactically horrible fate...and it's up to Sawyer and his friends to rescue them.
"With issues like bullying, not fitting in, and heroism, this is a book that kids and adults will share and treasure. It's Wonder with dinosaurs and is sure to touch your heart." -- P. J. Hoover, author of Tut: The Story of My Immortal Life
"A wild and wacky adventure...with enough twists and turns to rival a roller coaster, DINOSAUR BOY is sure to appeal to wonderfully weird kids of every shape and size." --Kelly Milner Halls, award-winning author of Girl Meets Boy.
About the Author
Cory Putman Oakes was born in Basel, Switzerland, but grew up in Novato, California and attended Marin Catholic High School. She then spent three fantastic years at the University of California at Los Angele before graduating in 2001 with a B.A. in Psychology. In 2004, Cory graduated from Cornell Law School with a Juris Doctorate Degree and her husband, Mark (the first was the intended consequence of attending the school, the second was a bonus). Since then, she has been an associate at a big law firm, taught business law to undergraduates at Texas State University and written several books for young people.
Cory now lives in Austin, Texas with Mark and their beautiful daughter, Sophia. In addition to writing, Cory enjoys reading, cooking, running, and hanging out with her family and pets.
CORY PUTMAN OAKES was born in Switzerland and grew up in California. She graduated from UCLA and Cornell Law. Since then, she's been an associate at a big law firm, taught at Texas State University, and written several books. Cory lives in Austin, Texas, with husband and daughter. Visit Cory's website at corypoakes.com.