Dinosaur Boy Saves Mars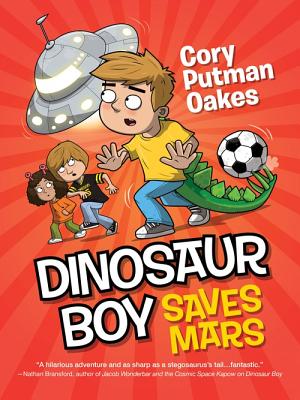 Dinosaur Boy Saves Mars
Sourcebooks Jabberwocky, Hardcover, 9781492605409, 224pp.
Publication Date: February 2, 2016
* Individual store prices may vary.
Buy at Local Store
Enter your zip code below to purchase from an indie close to you.
or
Buy Here
Description
Dinosaurs, Martians, and mystery, oh my Fans of Michael Buckley's NERDS and Dan Gutman's Genius Files will love this hilarious, action-packed adventure series. What would life be like if you were part dinosaur?
When you're part Stegosaurus life can be a little crazy. (Yes, sleeping with plates is weird. No, dino-human hybrids do not have second brains in their butts.) But Sawyer's life is normal(ish) -- until he's yanked aboard a UFO and sent on a mission to Mars.
Sawyer, Elliot and Sylvie travel to Mars to find her missing father, but they find even bigger trouble. Mars is trying to kick Pluto out of the solar system. And the fate of both planets will be decided by the upcoming Pluto VS Mars soccer match. Of course.
It's an intergalactic mess, and only Sawyer can save Mars, defend Pluto and protect the galaxy...
"You thought your day at school was rough. Try being half dinosaur. Dinosaur Boy is a hilarious adventure and as sharp as a stegosaurus's tail, with twists and turns on every page...fantastic." --Nathan Bransford, author of Jacob Wonderbar and the Cosmic Space Kapow
"Funny, fast-paced, and filled with surprising twists, Dinosaur Boy is a charming story about friendship, bullies, dinosaurs, and learning to live with being very, very different. The ending will have boys and girls roaring for more of Sawyer's adventures, and possibly wishing for their very own dinosaur genes " --Nikki Loftin, author of The Sinister Sweetness of Splendid Academy and Nightingale's Nest.
About the Author
Cory Putman Oakes was born in Basel, Switzerland, but grew up in Novato, California and attended Marin Catholic High School. She then spent three fantastic years at the University of California at Los Angele before graduating in 2001 with a B.A. in Psychology. In 2004, Cory graduated from Cornell Law School with a Juris Doctorate Degree and her husband, Mark (the first was the intended consequence of attending the school, the second was a bonus). Since then, she has been an associate at a big law firm, taught business law to undergraduates at Texas State University and written several books for young people.
Cory now lives in Austin, Texas with Mark and their beautiful daughter, Sophia. In addition to writing, Cory enjoys reading, cooking, running, and hanging out with her family and pets.
CORY PUTMAN OAKES was born in Switzerland and grew up in California. She graduated from UCLA and Cornell Law. Since then, she's been an associate at a big law firm, taught at Texas State University, and written several books. Cory lives in Austin, Texas, with husband and daughter. Visit Cory's website at corypoakes.com.