You Were Here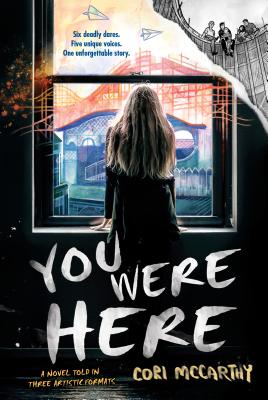 You Were Here
Sourcebooks Fire, Hardcover, 9781492617044, 400pp.
Publication Date: March 1, 2016
* Individual store prices may vary.
Buy at Local Store
Enter your zip code below to purchase from an indie close to you.
or
Buy Here
Description
Cori McCarthy delivers an emotionally taut page-turner perfect for fans of E. Lockhart, Jennifer Niven, and Jandy Nelson.
Jaycee is about to accomplish what her older brother Jake couldn't: live past graduation.
Jaycee is dealing with her brother's death the only way she can - by re-creating Jake's daredevil stunts. The ones that got him killed. She's not crazy, okay? She just doesn't have a whole lot of respect for staying alive.
Jaycee doesn't expect to have help on her insane quest to remember Jake. But she's joined by a group of unlikely friends - all with their own reasons for completing the dares and their own brand of dysfunction: the uptight, ex-best friend, the heartbroken poet, the slacker with Peter Pan syndrome, and... Mik. He doesn't talk, but somehow still challenges Jayce to do the unthinkable-reveal the parts of herself that she buried with her brother.
Cori McCarthy's gripping narrative defies expectation, moving seamlessly from prose to graphic novel panels and word art poetry. From the petrifying ruins of an insane asylum to the skeletal remains of the world's largest amusement park, You Were Here takes you on an unforgettable journey of friendship, heartbreak, and inevitable change.
"You Were Here is wrenchingly beautiful in its honest and achingly accurate portrayal of grief and how it breaks us-and the way unconditional friendship puts us back together."?Jo Knowles, award-winning author of See You At Harry's and Read Between the Lines
"The urban explorers of You Were Here dive deep into the forgotten man-made spaces all around them?and their own feelings of loss, love, and fear. McCarthy deftly intertwines the characters' stories, filling them with authentic pain and heartache as well as soaring moments of grace and humor. I dare you to read it " ?Maggie Lehrman, author of The Cost of All Things